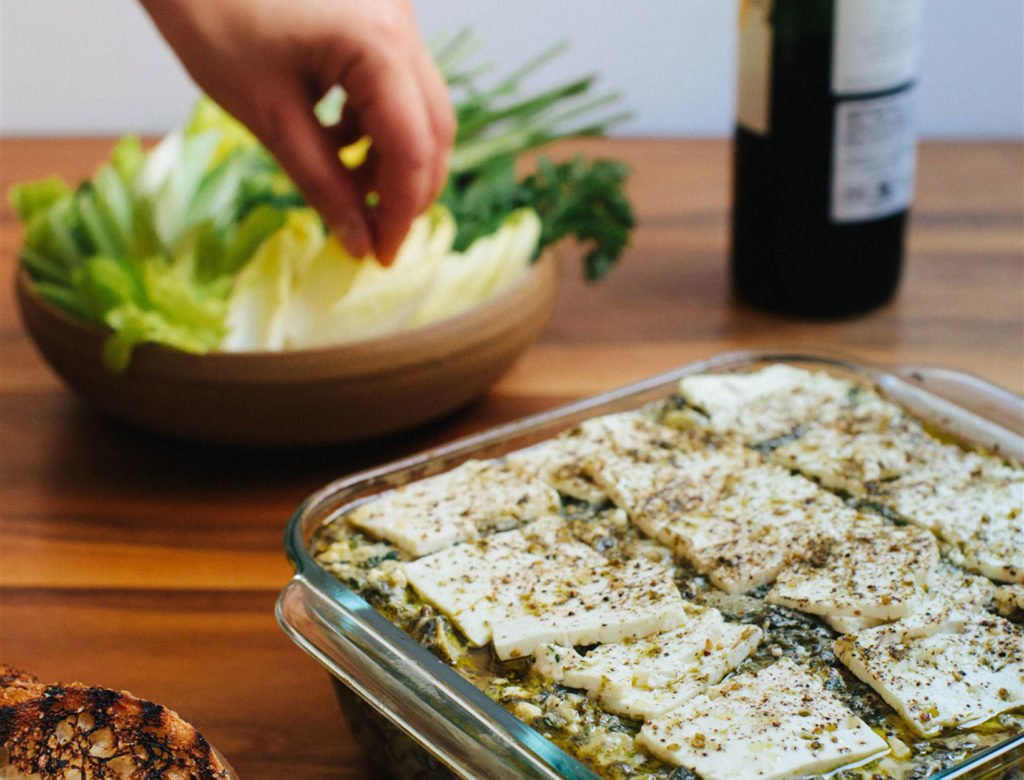 Spinach and Artichoke Dip with Crudités and Sourdough
A veggie-forward version of the party dip. Seriously, two pounds of spinach, over a cup of parsley, and three cups of artichokes. You can make this ahead and wait until the last minute to pop it in the oven just before serving.
2 pounds spinach
3 cups marinated artichoke hearts, quartered
2½ cups whole-milk Greek yogurt
3 cups feta, crumbled, plus 9 thin slices for topping
1½ cups roughly chopped parsley
¼ cup olive oil, plus more for greasing
2 tablespoons za'atar, plus more for garnish
1 tablespoon onion powder
2 teaspoons cayenne
salt and freshly ground pepper, to taste
grilled bread, for serving
crudités, for serving
1. Preheat oven to 400°F.
2. In a large pot of boiling salted water, blanch the spinach, 2 minutes, working in batches. Shock the spinach in an ice bath until cooled, then strain and wring out excess moisture with a towel. Roughly chop the spinach.
3. In a large bowl, mix the spinach with the artichoke hearts, yogurt, crumbled feta, parsley, oil, za'atar, onion powder, and cayenne. Season the mixture with salt and pepper and transfer to a greased 8×8-inch baking dish. Shingle the thinly sliced feta on top and garnish with za'atar.
4. Bake until bubbly, 25 to 30 minutes; let cool, 5 minutes. Serve hot with grilled bread and crudités on the side.
Originally featured in 4 Easy Recipes to Prep for the Week Ahead