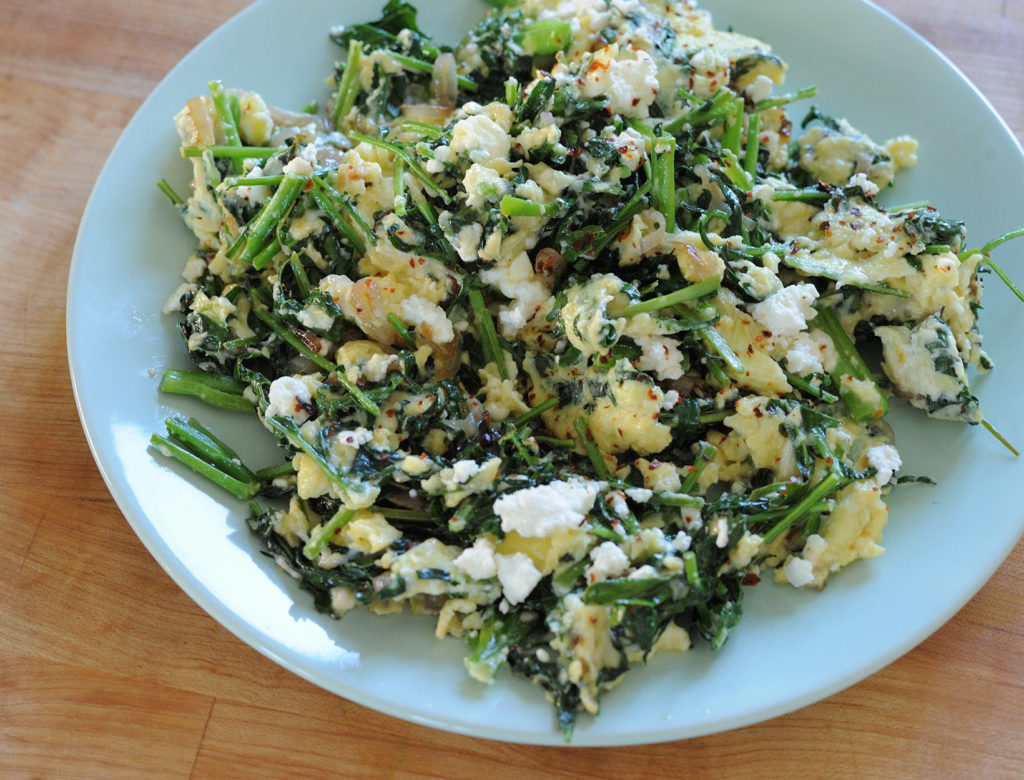 Spigarello and Goat Cheese Scramble
If a super savory breakfast is your thing, this is for you. Spigarello stems are delicate, and more like broccolini than less-palatable kale stems, so you can just roughly chop and cook the whole thing. Its broccoli-esque flavor is well matched with rich eggs and tangy goat cheese.
1. Heat the olive oil in a nonstick pan over medium heat. Add the shallots and sauté for about 5 minutes so they develop some golden color. Add the spigarello and a pinch of salt and stir to combine. Let that cook for another couple of minutes or until the leaves and stems are starting to get tender.
2. Just before adding the beaten eggs, add the butter and let it melt in the pan. Pour the eggs all over the mixture in the pan and reduce the heat to medium-low. Stir gently, and just before the eggs are set (maybe a minute and a half) sprinkle the goat cheese over the top and gently fold it in. Remove from the heat just as the eggs appear set, and plate. Sprinkle a little more salt and Aleppo pepper on top and serve.
Originally featured in Recipes and Strategies to Make the Most of a CSA Box or Any Vegetable Haul