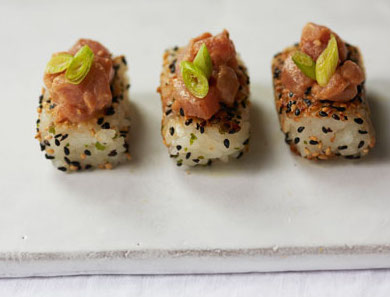 Spicy Tuna on Crispy Rice
Ubiquitous on the LA sushi scene, we skip the deep frying for a light sear in these little morsels and top with the freshest (omega-3 packed) tuna possible.
1. Slice tuna against the grain, then chop into small cubes. Place in bowl.
2. Add the mayo, Sriracha, rice vinegar, soy sauce and sesame oil. Mix to combine and place in fridge until ready to use.
3. Using either your hands and some cling wrap or a sushi mold, form rice into small rectangles (about 2 inches long and 1 inch thick). Rice should be packed as tightly as possible so that it doesn't fall apart when frying.
4. Roll formed rice pieces in sesame mix to coat.
5. Coat the bottom of a non-stick frying pan with vegetable oil and place over high heat. When oil is hot enough to sizzle, fry each piece for about a minute on each side, or until golden brown. Remove to a paper-towel lined plate.
6. When cool, enough to handle, arrange rice pieces on a serving platter. Place spicy tuna mixture onto top to cover. Garnish with sliced scallion and serve.
Originally featured in Small Bites