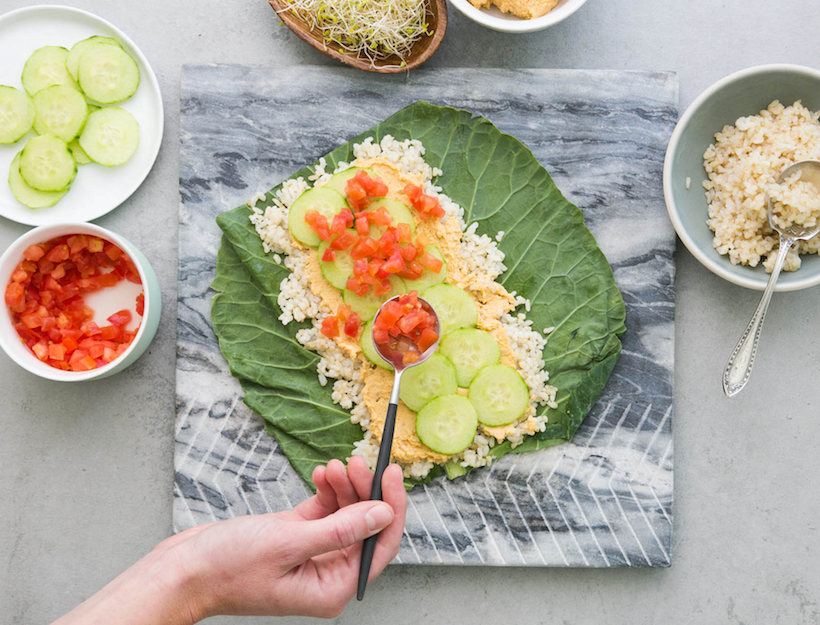 Spicy Hummus KyeRito
This is Jeanne's KyeRito version of a classic deli sandwich. It's also delicious with sliced turkey instead of (or in addition to) cucumber.
For the spicy hummus:
2 cups cooked chickpeas (or canned)
½ cup tahini
¼ cup olive oil
juice of 1½ lemons
3 cloves garlic, finely minced or grated
1 tablespoon ground cumin
½ teaspoon cayenne pepper
½ teaspoon smoked paprika
1 tablespoon Tabasco
salt and pepper to taste
For the wraps:
4 large collard leaves, deveined
2 cups cooked rice
4 small handfuls sprouts
4 small handfuls diced tomatoes
1 English or 4 Persian cucumbers, thinly sliced
¾ cup spicy hummus
1. To make the hummus, place all ingredients in a food processor and blend until smooth.
2. To assemble the wraps, lay the collard leaves out flat on a cutting board, divide the rice among them and spread over evenly. Next layer on the hummus, sliced cucumber, chopped tomato, and sprouts. Roll up each collard leaf tightly and wrap in parchment, wax paper, or cellophane. Secure with tape at the bottom and on the side, and peel back wrapper to eat.
Originally featured in DIY Portable Lunch: Kye's Rolls