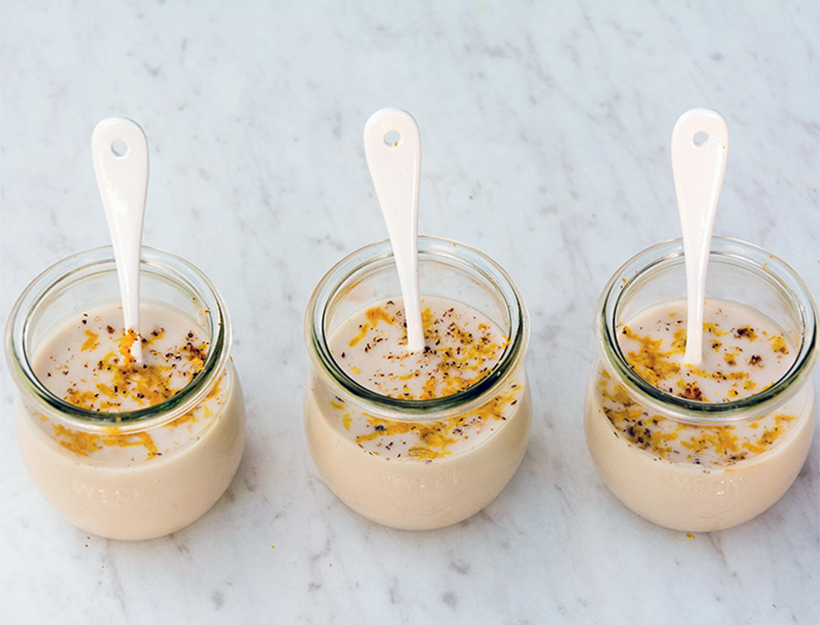 These little vanilla puddings, thickened with tapioca pearls, are subtly flavored with holiday spices and just the right amount of sweet. Coco recommends using homemade almond milk, but a good store-bought version will work very well in a pinch. Although they're easy to put together, the almond-tapioca mixture needs to infuse overnight in the fridge, so be sure to plan ahead.
1. In a large Tupperware or a bowl with a lid, combine the almond milk, tapioca pearls, cloves, cardamom pods, and cinnamon sticks. Stir to combine well, then cover and place in the fridge for 12 hours.
2. The next day, use a slotted spoon to remove the cloves, cardamom pods, and cinnamon sticks.
3. Pour the infused almond-milk-and-tapioca mixture into a medium saucepan and add the remaining ingredients.
4. Cook over medium heat, whisking constantly, for about 6 minutes, or until the liquid is quite thick. Turn off the heat but continue whisking vigorously—the mixture should continue to thicken and will be ready when the whisk leaves marks as you lift it from the pudding.
5. Set aside and let cool to room temperature. Once cooled, use a powerful blender to blend until smooth. Chill thoroughly in the fridge before serving.
7. Serve with orange zest sprinkled over the top, if desired.
Originally featured in 4 Gluten- and Dairy-Free Desserts That Taste Better than the Real Thing