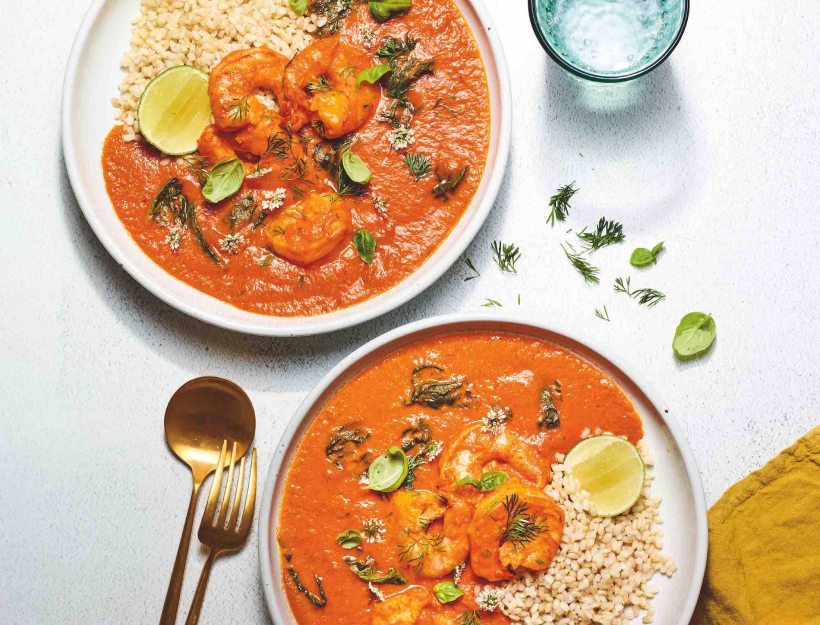 Spiced Tomato and Shrimp Bisque
"A warming tomato and coconut bisque is used as a poaching liquid to make succulent shrimp. Paired with baby kale leaves and grounding brown rice, it creates a satisfying, hearty, and nutrient-rich dish that hits the spot."
1. In a large stockpot or Dutch oven, heat the avocado oil over medium-high heat.
2. Add the shallot, garlic, ginger, carrot, and cayenne pepper to the pot. Cook, stirring, for 3 to 5 minutes.
3. Add the tomatoes and their juices, coconut milk, and roasted red peppers to the pot. Reduce the heat and bring to a simmer. Add the cumin, coriander, turmeric, and juice of 1 lime. Let the mixture simmer for 10 to 30 minutes.
4. Remove the bisque from the heat and, using a hand blender, purée until smooth (if you don't have a hand blender, you can transfer the contents to a standing blender). Season with salt and pepper to taste.
5. Return the bisque to the heat and bring to a simmer. Add the kale and cook until wilted, about 5 minutes.
6. When ready to serve, add the shrimp and cook, stirring frequently, for 4 to 5 minutes, or until the shrimp are pink and cooked through.
7. Serve with the rice, cilantro, basil, and a wedge of lime.
Excerpted from Foodwise. Copyright © 2023, Mia Rigden. Reproduced by permission of Simon Element, an imprint of Simon & Schuster. All rights reserved.
Originally featured in 3 Satisfying Weeknight Dinner Recipes from a Holistic Nutritionist