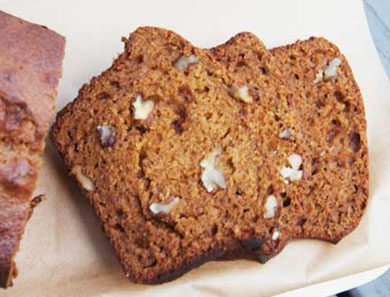 Spiced Pumpkin & Walnut Bread
You won't miss the wheat or sugar here, with the maple syrup adding a perfect sweetness and the ginger and garam masala a piquant kick.
2 teaspoons freshly grated ginger
2 eggs
1/3 cup water
1 cup real Vermont maple syrup
1/2 cup agave syrup
1/2 cup vegetable oil, plus a little for the pan
1 cup pureed pumpkin (fresh or canned)
1 teaspoon vanilla
2 cups white spelt flour
1/2 cup buckwheat flour
3/4 teaspoon baking soda
1/2 teaspoon salt
1/2 teaspoon ground cinnamon
1/2 teaspoon ground cloves
1/2 teaspoon allspice
1 teaspoon garam masala
1 cup walnuts
1. Preheat the oven to 350° F.
2. Whisk together the ginger, eggs, water, maple syrup, agave, oil, pumpkin and vanilla in a large mixing bowl.
3. Sift in the flours, baking soda, salt, and spices. Stir together and fold in the walnuts.
4. Lightly grease a 9″ x 5″ x 3″ glass loaf pan.
5. Pour the batter into the prepared pan.
6. Bake the bread until browned and a wooden skewer doesn't have any batter stuck to it when you test it (about an hour and 10 minutes).
Originally featured in Holiday Recipes