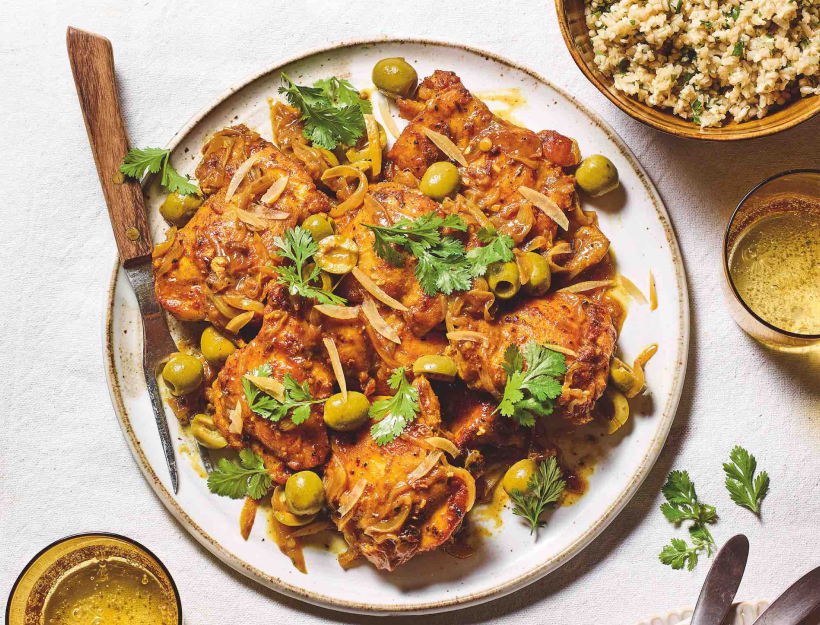 Spiced Chicken with Green Olives
"This is my go-to dish to serve at a dinner party. It's easy to make ahead of time, is always a crowd-pleaser, and makes for great leftovers. I've never made it for friends and had them not ask for the recipe, so here you go."
1. In a medium mixing bowl, add the ginger, garlic, olive oil, lemon zest, salt, pepper, turmeric, cumin, coriander, and paprika and whisk to combine.
2. Add the chicken, stirring to coat thoroughly with the spice mixture, and let it sit for 15 to 30 minutes.
3. Heat a large skillet over medium to high heat. Using tongs, add the chicken evenly across the bottom of the pan. Sear for 3 to 5 minutes on each side, or until lightly browned.
4. Remove the chicken from the pan and set aside. Reduce the heat to medium-low and add the onion. Cook, stirring occasionally, for 8 to 12 minutes, or until soft and lightly caramelized.
5. Pour the broth and juice into the pan and sprinkle the flour on top. Stir everything to combine, bring to a simmer, and nestle the chicken back into the pan.
6. Let the mixture simmer uncovered for at least 10 minutes or up to an hour. The longer it simmers, the more tender the chicken will be.
7. Taste the broth and add salt and pepper as desired.
8. Scatter the olives evenly over the chicken and in the broth.
9. Garnish with the cilantro.
Excerpted from Foodwise. Copyright © 2023, Mia Rigden. Reproduced by permission of Simon Element, an imprint of Simon & Schuster. All rights reserved.
Originally featured in 3 Satisfying Weeknight Dinner Recipes from a Holistic Nutritionist