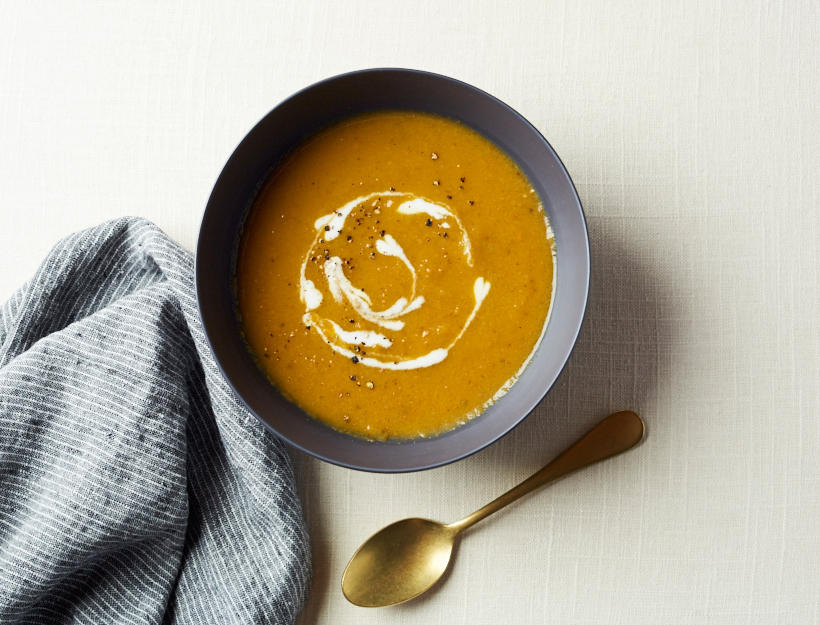 This easy carrot soup has just enough heat from the serrano chili, warmth from the cumin and cinnamon, and brightness from the fresh lime juice. Serve with bread and a simple salad for a quick and satisfying lunch or dinner any time of year.
1. Preheat the oven to 425°F.
2. Cut any large carrots in half lengthwise, then all of them into 2-inch chunks. Toss with 1 tablespoon of the olive oil and season with salt and pepper.
3. Place the carrots on a parchment-lined baking sheet and roast for 20 to 25 minutes or until they are tender and nicely caramelized.
4. Meanwhile, heat the remaining oil in a Dutch oven over medium-high heat. Add the mustard and coriander seeds and cook for 30 seconds.
5. Add the sliced onion and a large pinch of salt and sauté gently for 10 minutes.
6. Add the garlic, cumin, cinnamon, chopped cilantro, and serrano chili and sauté for 1 minute or until fragrant.
7. Add the roasted carrots, stock, and a large pinch of salt. Bring the mixture to a boil, then reduce to a simmer and cook, partially covered, for 25 minutes.
8. Use an immersion blender to blitz until smooth, then season to taste with salt and pepper.
9. Serve with a pinch of sea salt, a drizzle of yogurt, and a squeeze of fresh lime juice.