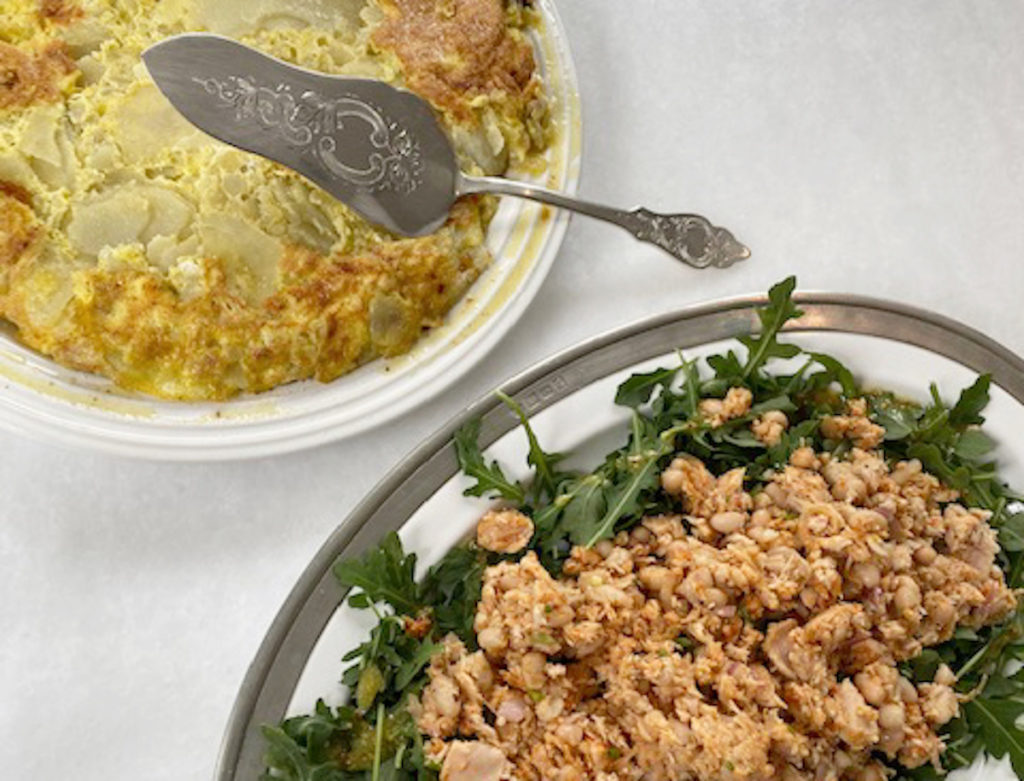 Spanish Tortilla and Tuna White Bean Salad with Pimentón
This Spanish-inspired spread relies on staple ingredients you probably already have (tuna, beans, potatoes, eggs) yet somehow feels elegant.
1. To make the Spanish tortilla, heat the oil over medium heat in a nonstick skillet and add the onions. Season with a pinch of salt and sauté for a few minutes until fragrant and beginning to turn translucent. Add the sliced potatoes, stirring them gently to make sure they all get coated with oil but don't all get broken up (it's okay if some of them do break). Cook the potatoes for about 20 minutes; they should be tender, but not brown or crispy. Then remove the pan from the heat and drain the potato and onion mixture into a colander, reserving a few tablespoons of oil.
2. Add the reserved oil back to the pan over medium heat. While the pan heats up, combine the potato mixture and the eggs. Season with a generous pinch of salt and a few grinds of fresh black pepper, then add it all back to the pan. Cook it gently for about 5 to 8 minutes until the edges are starting to set (the top will not be set yet). Carefully place a large plate over the top of the pan and, holding it firm to the pan, flip it over in one quick motion. Then return the pan to the burner and slide the tortilla back into the pan to cook the other side, which should take no more than 5 minutes. When done, slide the tortilla onto a plate and cut into 6 slices.
3. To make the tuna salad, combine the vegenaise, red wine vinegar, shallot, and pimentón. Then fold in the beans and tuna and mix well to incorporate. Add a bit of olive oil and taste for seasoning, adding salt and pepper as needed.
4. Serve the tuna and bean salad over a bed of arugula, alongside the tortilla.
Originally featured in The Meals Gwyneth Is Cooking Right Now