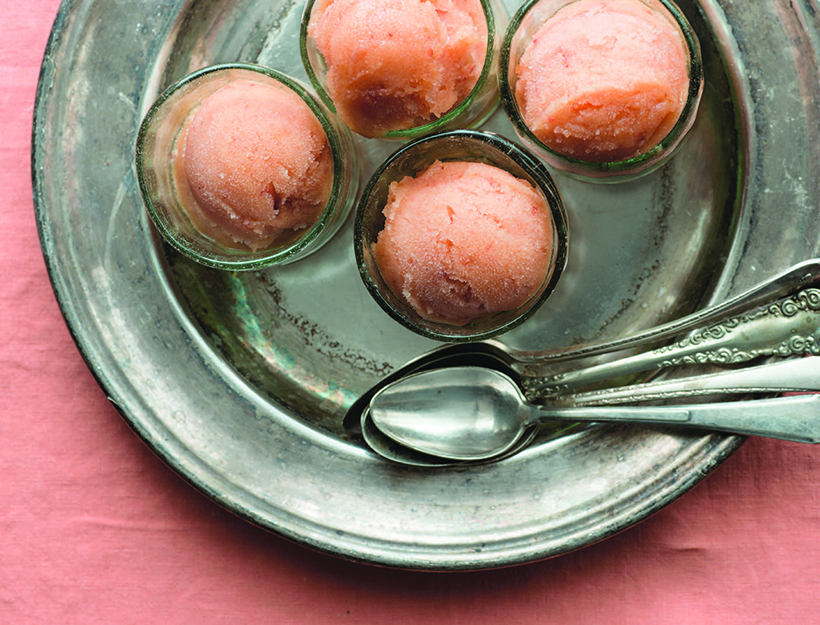 Sorbetto di Pesche e Vino
Every roman gelato shop offers classics like pistacchio, cioccolato, nocciola, and fragola, but only one boozy flavor—zabaione, an egg yolk and Marsala wine custard—makes the list of standards. Recently, though, at a small but growing number of artisanal gelaterie, the selection has received a spirited makeover. At places like Il Gelato di Claudio Torcè, Fatamorgana, Otaleg, and Carapina, alcohol-based flavors are becoming increasingly common. These refreshing and boozy sweets are fairly easy to reproduce at home. This recipe, which is technically a sorbet due to the absence of dairy, is inspired by a common summer dessert, pesche al vino, in which a peeled peach marinates in wine. The sorbet mixture must rest for at least 6 hours in the refrigerator before churning.
1. In a medium bowl, combine the diced peaches and lemon juice and set aside.
2. Combine ½ cup of the sugar and ½ cup water in a small saucepan over low heat and stir until the sugar has dissolved. Remove from the heat and allow the syrup to cool to room temperature, about 20 minutes.
3. Transfer the syrup to a food processor, add the diced peaches and lemon juice, and process until smooth. Add ¼ cup of the wine and process again, then chill the mixture in the refrigerator for at least 6 hours or overnight.
4. Freeze the mixture in an ice cream maker according to the manufacturer's instructions. Meanwhile, peel and dice the whole peach and combine it in a small bowl with the remaining 1 tablespoon sugar and 2 tablespoons wine. Allow to macerate for at least 30 minutes.
5. Serve the sorbet garnished with the wine-macerated peach and mint (if using).
6. To cool the syrup more quickly, prepare an ice bath while the pan is over the heat. Once all the sugar has dissolved, remove the pan from the heat and place it in the ice bath.
Reprinted from Tasting Rome: Fresh Flavors and Forgotten Recipes from an Ancient City. Copyright © 2016 by Katie Parla and Kristina Gill. Photographs copyright © 2016 by Kristina Gill. Published by Clarkson Potter/Publishers, an imprint of Penguin Random House LLC.