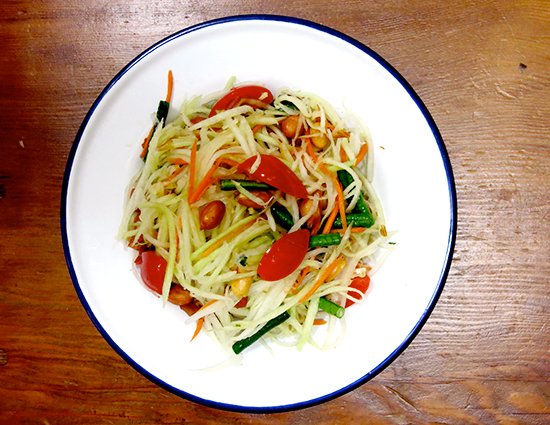 Som Tum Thai
Thai papaya salad contributed by Chef Kris Yenbamroong of LA's Night + Market.
2 oz. long beans (cut into 2″ segments)
6 oz. green papaya, shredded
3-4 birds eye chili peppers
3 garlic cloves
1 oz. peanuts
1/2 oz. goong haeng (tiny dried shrimp)
4 cherry tomatoes, halved
1 tablespoon palm sugar
1 1/4 tablespoon fish sauce
1 1/4 tablespoon lime juice
1 wedge of raw cabbage
special equipment
Clay mortar and wooden pestle. If you have a stone mortar and pestle, it could potentially work, you just have to be way more gentle when pounding.
A spoon long enough to reach the bottom of the mortar.
1. Throw the chili peppers in the mortar and pound them with the pestle. The finer you pound them, the spicier the salad will be. Cut down or omit the chili peppers altogether if you can't handle the heat.
2. Pound the garlic until it's broken up, but not necessarily a paste.
3. Add the long beans and pound gently. At this point, you're mainly trying to bruise the ingredients, not pulverize them. The pounding should be alternated with a scraping of the bottom of the mortar with the spoon to make sure all the ingredients are evenly incorporated/bruised.
4. Add the palm sugar, fish sauce, and lime juice. Use the spoon to mix until the 'dressing' is uniform. If the palm sugar is too hard, soften it up with a tablespoon of boiling water.
5. Add the green papaya. Use the spoon to mix all the ingredients. Use the pestle to help nudge but don't pound.
6. Throw in the peanuts and tomatoes. Bruise gently, mix, and serve with the raw cabbage on the side and extra long beans, if desired.
Originally featured in Some Hits From Night + Market