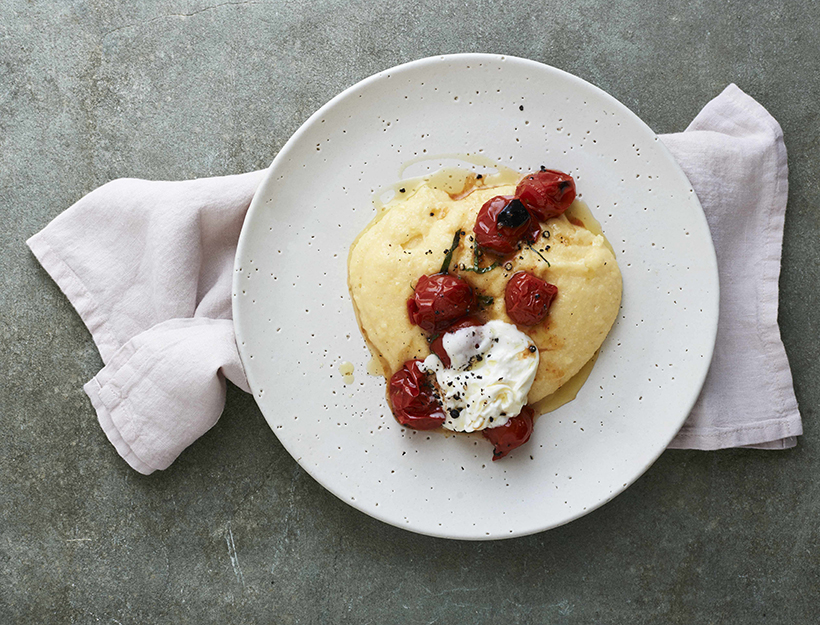 Soft Polenta with Roasted Cherry Tomatoes
This kid-friendly dish tastes incredible and comes together in under 30 minutes—what more could you want? It makes an elegant side for something like roast chicken or simply grilled steak but is hearty enough to be served as a main course, too.
for the tomatoes:
4 pints cherry tomatoes
1 tablespoon olive oil
salt and freshly ground black pepper
1 garlic clove, very finely grated or minced
6 large fresh basil leaves, thinly sliced
for the polenta:
1 teaspoon salt
1 cup instant polenta
1/3 cup grated parmesan cheese
2 tablespoons unsalted butter
8 ounces burrata or mozzarella cheese, for serving
1. To make the tomatoes, preheat the oven to 450°F. Arrange the cherry tomatoes in an even layer on a large baking sheet. Toss with the olive oil and a couple of generous pinches of salt and pepper. Roast for 10 minutes, or until burnished and starting to pop. Remove from the oven and toss with the garlic and basil.
2. Meanwhile, make the polenta. In a medium saucepan, bring 3 cups water plus the salt to a boil. Add the polenta and cook according to the package instructions. Add the parmesan and butter and transfer to a serving platter or bowl. Top with roasted tomatoes and torn burrata cheese.
Originally featured in GP's Cookbook Process—Plus Our Food Editor Answers Some Q's