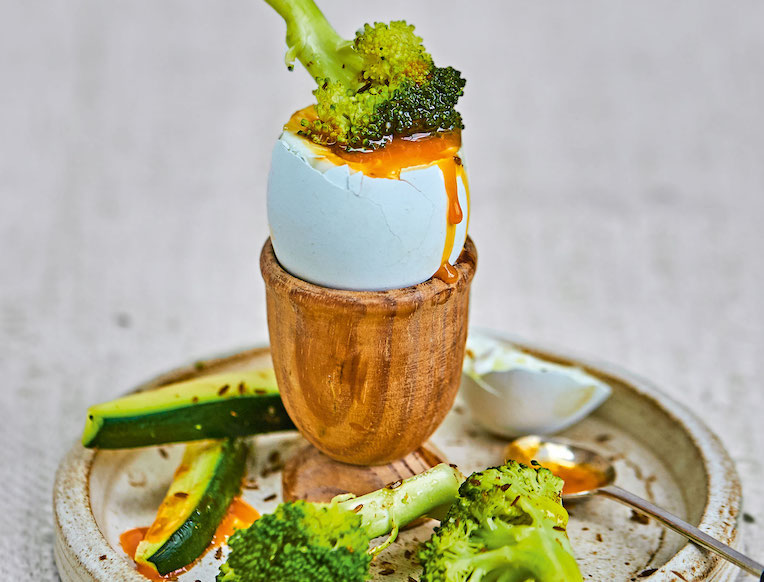 Soft-Boiled Eggs with Cumin Courgette and Broccoli Dippers
"After months of traveling, I stayed the night at my mum's, and we chatted in bed that morning about breakfast—my jet lag didn't know what it wanted. My brilliant mum came up with this one, and I added the cumin. I was craving eggs, and my body was demanding veggies, and so this recipe was born. It's nourishing and satisfying." —Jasmine Hemsley
1. Cut the broccoli into thin florets and the courgette into soldiers. Try to make them all roughly the same size so they cook at the same rate.
2. In a steamer set over boiling water, lightly steam the vegetables until they have slightly softened but still retain their bite. Alternatively, put them in a saucepan with 3 tablespoons of water, cover with a tightly fitting lid, and steam for 1 to 2 minutes for the courgette and 4 minutes for the broccoli. Keep checking to make sure that the water doesn't steam away.
3. While the broccoli and courgette are steaming, put the eggs in a medium pan, cover with cold water, and place over a high heat. Bring to a boil, then reduce the heat to low and simmer for about 3 minutes for runny eggs.
4. When the vegetables are cooked, either toss them with the olive oil or place them on a plate and drizzle with olive oil. Sprinkle over some salt and cumin.
5. Using a slotted spoon, carefully remove the eggs and place them in egg cups. Remove the tops of each egg by tapping the shell with a teaspoon or using a knife to slice the top off. Serve with the plate of veggies and extra salt, oil, and cumin on the side—and dip away!
Recipe excerpted from East by West. Copyright © 2017 by Jasmine Hemsley. Published by Bluebird Books, an imprint of Pan Macmillan.
Originally featured in Food Coach Jasmine Hemsley's Warming Recipes for Mind-Body Balance