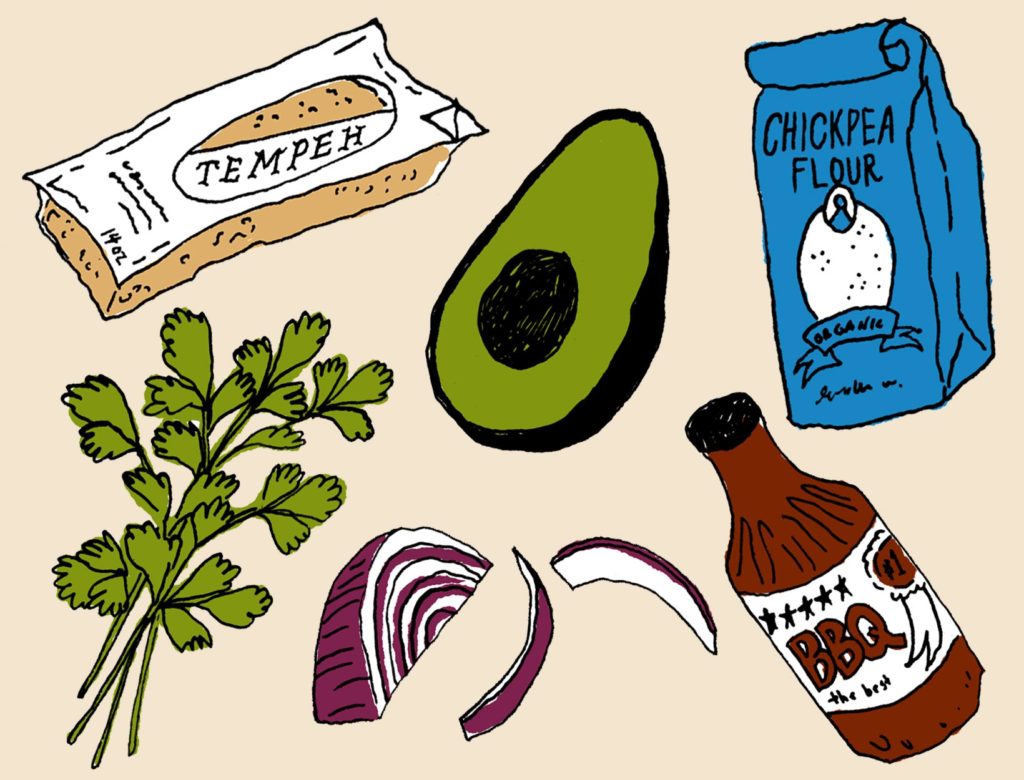 BBQ chicken pizza gets a healthy, plant-based update. The best thing about this recipe is how the rich, cooked elements—the socca crust, the clean BBQ sauce, and the tempeh—are juxtaposed with the cool, crunchy, fresh veggies that you add on top at the very end. And let's not forget the drizzle of vegan ranch.
1. First make the socca batter: Combine the chickpea flour, water, olive oil, and a pinch of salt and set aside to rest while you prepare the rest of the elements.
2. Make the BBQ sauce by combining all the ingredients in a small bowl with a whisk, then set aside.
3. Heat a skillet with a couple glugs of olive oil over high heat. Add the crumbled tempeh and stir occasionally while it cooks for about 5 minutes, just to brown it a little. Remove the tempeh and toss it with about a spoonful of the BBQ sauce. Set aside.
4. To make the socca, heat a small nonstick sauté pan over medium-high heat and add 1 teaspoon olive oil. When the pan is hot but the oil is not smoking, add about ½ cup socca batter. The batter should immediately spread into a nice 6- to 8-inch pancake, but if it doesn't, simply lift and turn the pan to help it spread out.
5. When the bottom is beginning to brown and you can see tiny bubbles on the surface (1 to 2 minutes), flip the socca and cook for another 1 to 2 minutes on the other side. Remove to a paper-towel-lined plate when cooked. Continue this process with the remaining batter, adjusting the heat and adding oil as needed. You should have 2 socca.
6. To assemble, spread a layer of BBQ sauce on the base of the soccas. Top with the reserved sautéed tempeh. Then scatter on the thinly sliced red onion and serrano chilies. Drizzle the vegan ranch over the pizza and finish with lots of fresh cilantro.
Originally featured in Reset with a 3-Day Plant-Based Meal Plan