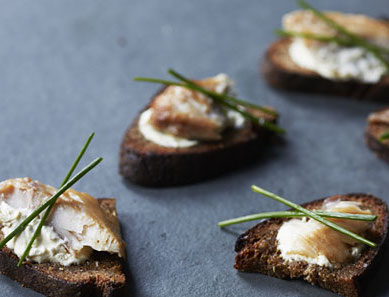 Smoked Trout on Rye
Mackerel works nicely with this as well, and if you're veggie only, sub out the trout for a slice of cucumber, which pairs well with the horseradish crème fraîche.
6 one-inch pieces of smoked trout
2 pieces sliced rye bread, cut in thirds
3 tbsp crème fraîche
1 tablespoon freshly grated horseradish
clove of garlic, sliced in half
olive oil
half a lemon
sea salt
freshly ground pepper
chives to garnish
1. Heat oven to 375°F.
2. Drizzle bread pieces with olive oil, sea salt and pepper and toast in oven, about 3 minutes on each side. Take them out of the oven and rub with cut sides of garlic. Line on serving platter.
3. Mix the horseradish with the crème fraîche and add a squeeze of lemon. Place a dollop on each piece of bread, top with trout and garnish with chives.
Originally featured in A Holiday Feast