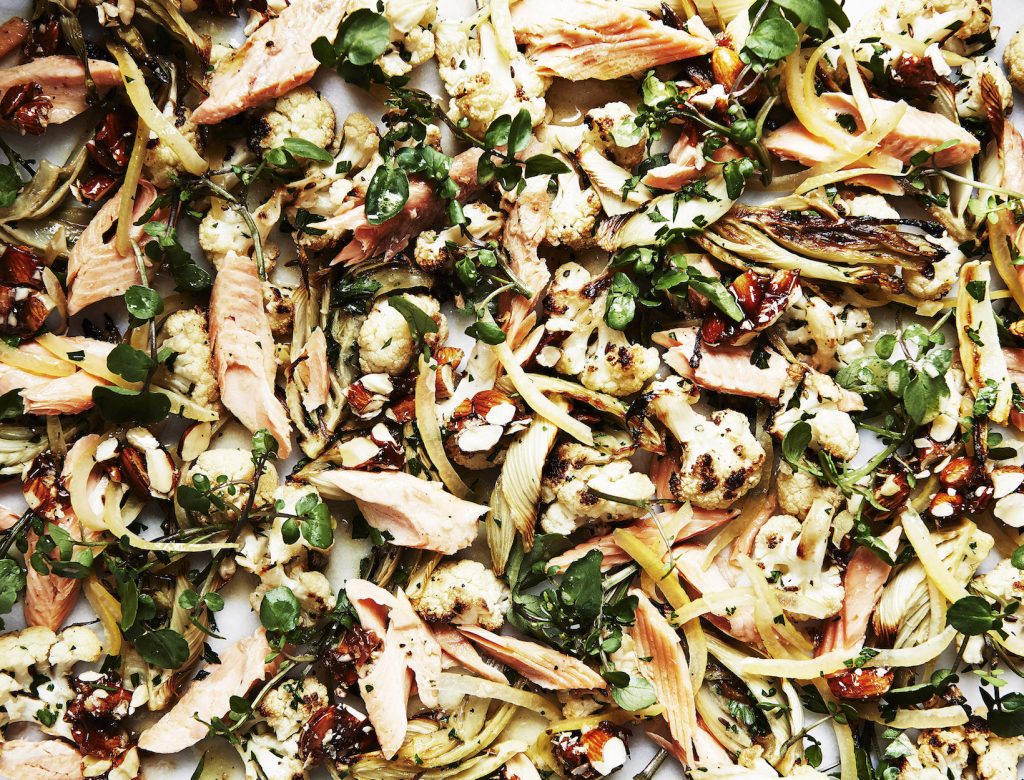 Smoked Trout and Roasted Fennel and Cauliflower Salad
With its mix of vitamin K, manganese, vitamins A and C, and omega-3 oils, this is a dish Beauty Chef founder Carla Oates calls "both flavorsome and a skin savior."
1. Preheat the oven to 400°F.
2. Spread the cauliflower onto a medium baking tray. Drizzle with olive oil, scatter with the cumin seeds, and season with salt and pepper. Toss to coat.
3. Spread the fennel onto a separate medium baking tray. Drizzle with olive oil. Roast the cauliflower and fennel, tossing occasionally, for 20 to 25 minutes, until tender and golden brown. Remove from the oven and set aside to cool.
4. Meanwhile, to prepare the maple almonds, line a small baking tray with baking paper.
5. Cook the almonds in a small frying pan over medium-low heat, tossing occasionally, until lightly roasted. Add the maple syrup and salt. Cook, tossing to coat, until the maple syrup has reduced to a thick, sticky caramel. Pour onto the prepared tray and set aside to cool.
6. To prepare the dressing, whisk the lemon juice, mustard, and garlic together in a small bowl. Gradually pour in the extra virgin olive oil, continuously whisking, until fully incorporated. Season with salt and pepper. Set aside.
7. Remove and discard the trout skin. Flake the trout into bite-size pieces, ensuring all the bones have been removed. Set aside. Remove and discard the flesh of the preserved lemon. Thinly slice the skin lengthways into strips. Once cooled, coarsely chop the almonds.
8. Combine the cauliflower, fennel, maple almonds, trout, preserved lemon, watercress, and parsley in a large bowl. Toss to combine. Pour over the dressing and toss to coat. Transfer to a large serving dish. Serve immediately.
Originally featured in goop Cookbook Club: The Beauty Chef