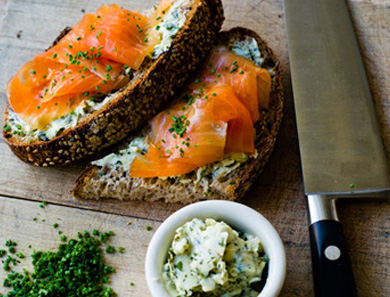 Smoked Salmon with Herb Butter
Who needs the top slice? This smoked salmon with herb butter tartine makes for an elegant lunch for entertaining guests or yourself.
2 tablespoons unsalted butter, at room temperature
1 teaspoon chopped tarragon
1 teaspoon chopped thyme
1 teaspoon chopped chervil
⅛ teaspoon salt
freshly ground pepper to taste
1 slice Whole-Grain Seeded Bread
thinly sliced smoked salmon (about ¼ pound)
1 teaspoon chopped chives
1. Make the compound butter: In a small bowl, mix the butter, tarragon, thyme, chervil, and salt.
2. Spread the herb butter on the bread, top with salmon, and sprinkle the chives over the salmon.
3. Finish with ground white pepper to taste.
Originally featured in Tartine