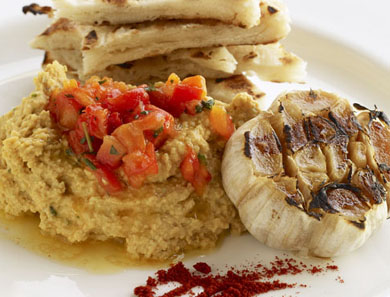 Here's a super healthy, delicious and vegan hummus recipe from Candle 79, a long-standing, upscale vegan restaurant in New York City.
1. If using dried chickpeas, put them in a saucepan or bowl and add cold water to cover by about 2 inches. Soak in the refrigerator for at least 6 hours or overnight. Drain and rinse.
2. Put the chickpeas in a saucepan and add cold water to cover by about 2 inches. Bring to a boil, decrease the heat, cover, and simmer until the chickpeas are tender, 50 to 60 minutes. Drain and let cool, reserving ¼ to ½ cup of the cooking water.
3. Combine the chickpeas, garlic, lemon juice, cayenne, paprika, salt, pepper, parsley, olive oil, and tahini in a bowl and stir to mix well. Transfer the mixture to a food processor fitted with the metal blade and process until well mixed. Add ¼ cup of the reserved cooking liquid (or water or vegetable stock if using canned chickpeas) and process until smooth and almost fluffy. Add more liquid if necessary. Scrape down the sides of the bowl once or twice. Transfer to a serving bowl and refrigerate for at least 1 hour. (The hummus can be made up to 3 days ahead and refrigerated. Return to room temperature before serving.)
4. To serve, drizzle a bit of olive oil over the hummus and sprinkle a bit of paprika. Serve with desired garnishes.
Originally featured in Healthy Recipes