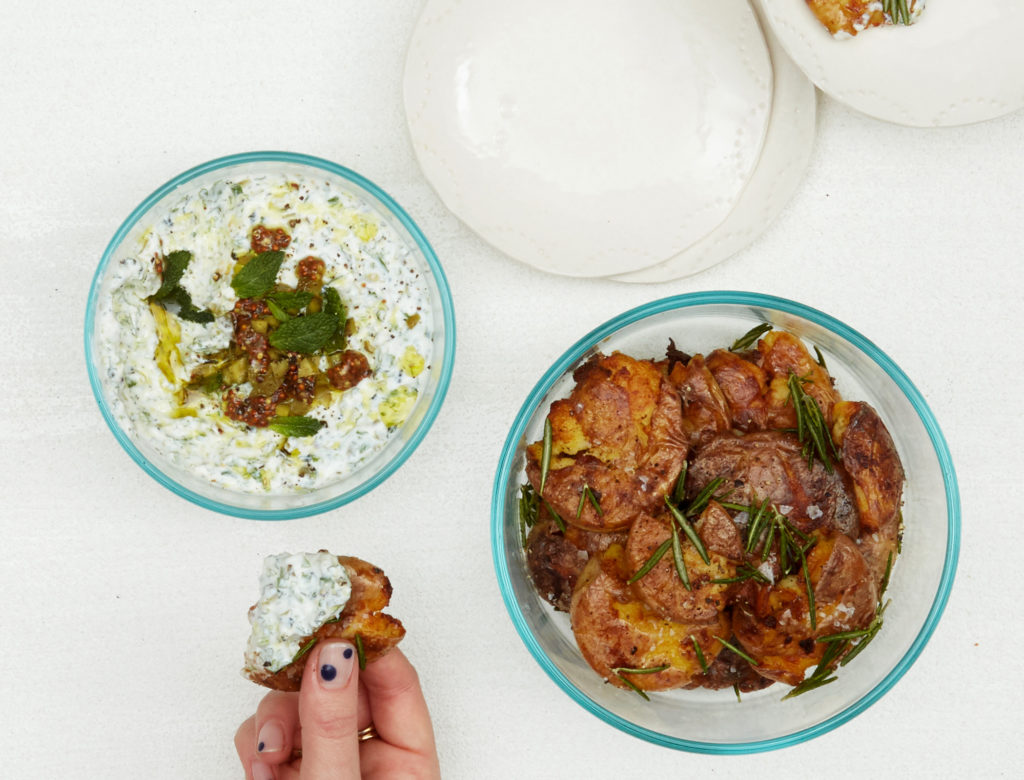 Smashed Potatoes with Yogurt Dip
Parboiling, smashing, and roasting baby potatoes leads to crispy perfection. They stay tender and creamy in the center and get an incredible crusty exterior. Dunking them into this briny and lemony yogurt dip is pure delight.
1. In a large pot, cover the potatoes with cold water and season generously with salt. Bring the water to a boil and simmer until the potatoes are tender, about 12 to 15 minutes. Drain and set aside until cool enough to handle.
2. On a clean surface, use the bottom of a small pan or a drinking glass to press down on the potatoes, smashing them into flattened disks. Set aside.
3. Make the rosemary oil: In a large pan, heat the oil over medium heat. Gently add the rosemary and stir. When the oil is no longer bubbling, transfer the fried rosemary to a paper-towel-lined plate and season with salt. Reserve the rosemary oil.
4. In the same pan, heat 2 tablespoons rosemary oil over medium heat. Working in 2 or 3 batches using new oil each time, pan-fry the smashed potatoes until golden brown, 2 to 3 minutes per side. Transfer to a paper-towel-lined plate and season with salt.
5. Make the yogurt sauce: In a small bowl, mix the remaining 2 tablespoons rosemary oil, yogurt, cornichons, 2 tablespoons brine, lemon juice and zest, onion powder, cayenne, and 1 tablespoon water. Season with salt and pepper.
6. Transfer the potatoes to a serving plate and garnish with fried rosemary. Serve with the sauce on the side.
Originally featured in A Veggie-Centric Paella Party Menu