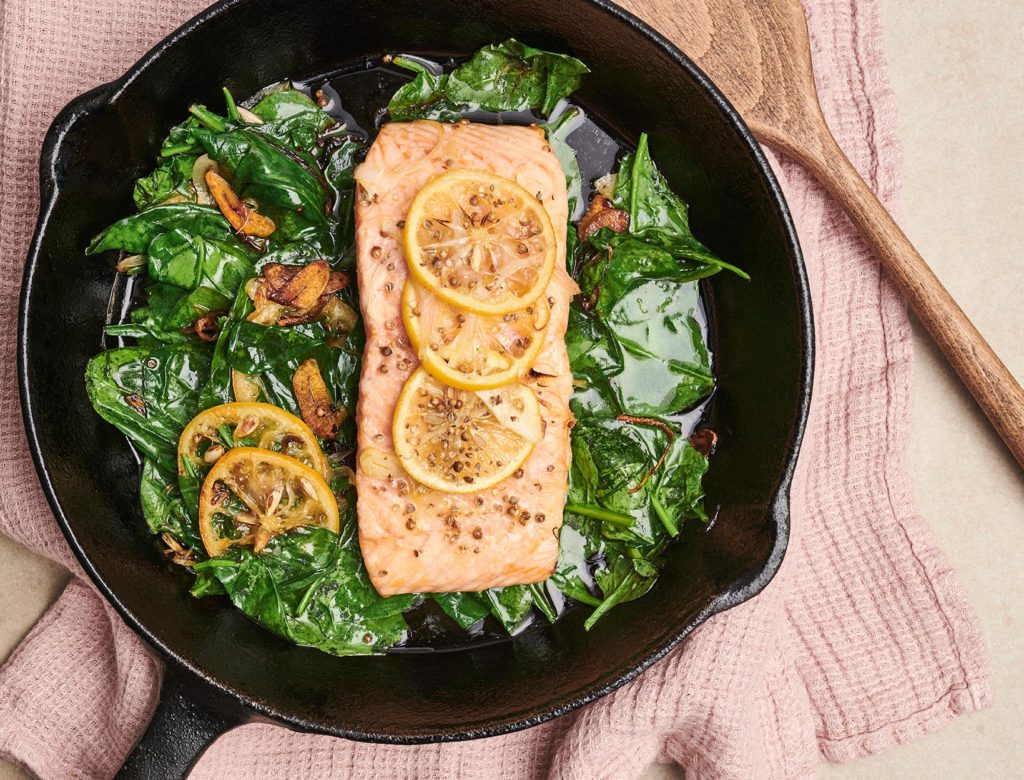 Slow-Roasted Salmon with Shallots, Garlic, Coriander, and Lemon
Recipes like this one show that clean eating can be so delicious. Slow-roasting the salmon in a fragrant oil infused with aromatics like shallots, garlic, and coriander feels almost too easy to taste so good.
2 medium shallots, thinly sliced
4 cloves garlic, thinly sliced
1 teaspoon coriander seeds
¼ cup plus 1 tablespoon extra virgin olive oil
2 lemons, 1 thinly sliced, 1 in wedges
1 (¾-pound) salmon fillet
salt
3 cups spinach
1 cup cooked quinoa or brown rice
1. Place the shallots, garlic, coriander seeds, and olive oil in an oven-safe skillet. Heat the pan over medium-low heat for 3 to 5 minutes, until the oil starts to sizzle and the shallots and garlic become fragrant, watching carefully to make sure they don't burn. Then add the lemon slices, stir to combine, and let that simmer for another minute.
2. Meanwhile, preheat your oven to 300°F. Pat the salmon fillet dry with a paper towel and season generously with salt. Place the salmon fillet in the skillet skin side down. Tilt the skillet to one side so the oil pools and can easily be spooned over the top of the salmon. Then turn off the burner and place the whole skillet in the oven. Bake for 15 to 20 minutes, until the salmon is opaque and flakes easily. Carefully remove the skillet from the oven and set the salmon aside on a plate to rest for a few minutes.
3. While the salmon rests, add the spinach to the hot skillet with the oil, shallot, garlic, coriander, and lemon mixture. The residual heat from the oven should be enough to make the spinach gently wilt as you toss it, but you might need to turn on the stove to move things along. You want the spinach to be lightly cooked, not braised.
4. Serve the spinach over cooked quinoa or brown rice and top with the salmon fillet. Serve with lemon wedges.
Originally featured in The Annual 5-Day Detox