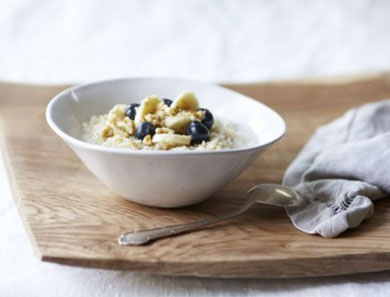 Slow-Cooking Gluten-Free Oats, Millet, Quinoa, Amaranth or Brown Rice Porridge
Cook up some grains for breakfast, pour on some almond or coconut milk and add toppings, such as cinnamon, nuts, berries and be sure to include some good fats like chia seeds, ground flaxseeds, or unsweetened shredded coconut. If needed, add a bit of stevia or raw honey to sweeten. I don't recommend these on a daily basis but when you feel like something warm and comforting in the morning, these hit the spot.
In a saucepan, cover the grains of your choice in water, and bring to a boil. Cover the saucepan and take down to a simmer, until the grains are cooked through. Grains and oats all require a different cooking times and amounts of water. See proportions below.
Basic proportions and cooking times for different grains:
1 part oats: 1 part water, 10 minutes
1 part millet: 2 parts water, 25-30 minutes
1 part quinoa: 2 parts water, 15-20 minutes
1 part amaranth: 3 parts water, 20-25 minutes
1 part brown rice: 2 parts water, 30-40 minutes
Originally featured in A Better Breakfast