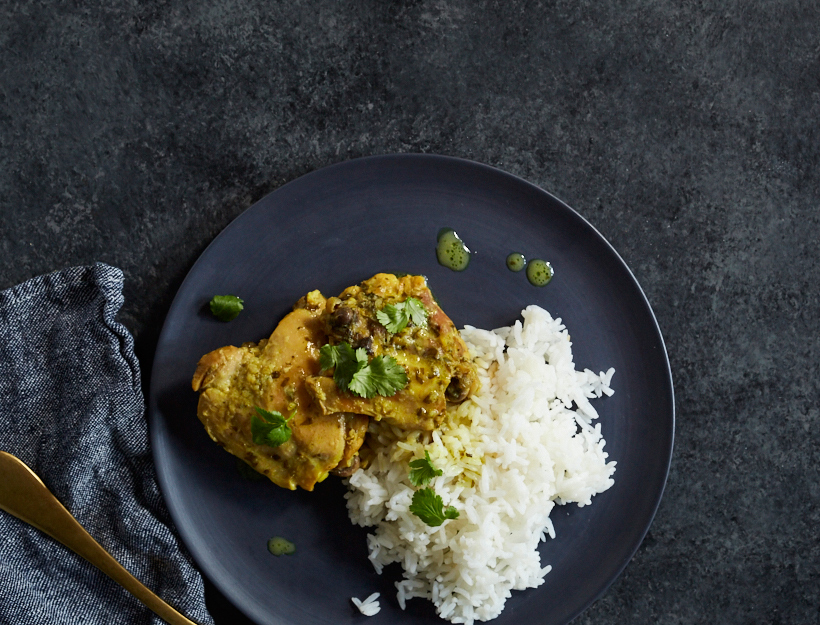 Slow Cooker Thai Chicken Thighs
Chicken and rice—what could be more comforting? This version has the added oomph of Thai-inspired ingredients: fresh mint and cilantro, golden turmeric, tart lime juice, and the umami powerhouse that is fish sauce!
2 teaspoons fresh ginger, grated
4 cloves of garlic, grated
zest of ½ lime
juice of 1 lime
½ serrano chile, minced
2 tablespoons cilantro, finely chopped
2 tablespoons mint, finely chopped
½ teaspoon ground turmeric
2 tablespoons fish sauce
2 teaspoons salt
2 teaspoons coconut sugar (optional)
4 bone-in, skin-off chicken thighs
1 2-inch piece of lemongrass, dry outer layer removed
1 15-oz can of coconut milk
to serve:
2 cups cooked Jasmine rice
1. Combine the first 11 ingredients in a bowl. Toss the chicken thighs in the marinade and let it sit for about 15 minutes at room temperature.
2. Take the lemongrass and give it a whack with the back of your knife so that it's fragrant.
3. Remove the chicken from the marinade and place in the crockpot. Add the lemongrass and coconut milk and slow cook on high for 4 hours.
4. Serve with jasmine rice.
Originally featured in Wintertime Recipes for the Slow-Cooker Obsessed