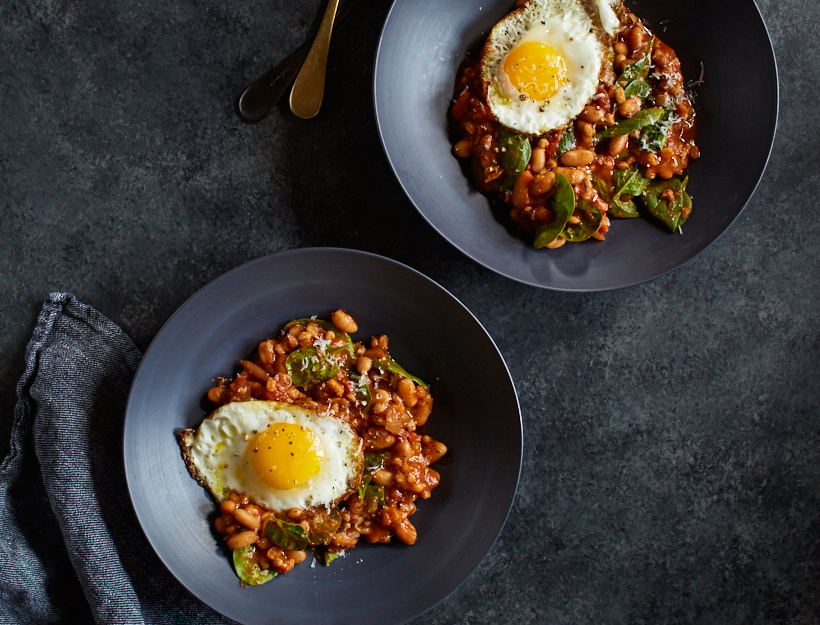 Slow Cooker Cannellini, Farro, and Spinach Stew
This hearty and versatile stew, inspired by the Italian soup pasta e fagioli, makes an equally delicious breakfast, lunch, or dinner.
3 tablespoons olive oil
1 medium onion, diced
3 large cloves garlic, minced
1 tablespoon tomato paste
½ teaspoon chili flakes
1 large sprig rosemary, finely chopped
1½ cups dried cannellini beans
½ cup farro
1 15-ounce can diced tomatoes
8 cups vegetable stock
1 tablespoon kosher salt
1 pound cleaned baby spinach
6 fried eggs (optional)
Parmesan cheese (optional)
1. Heat the oil in a sauté pan over medium-high heat. Add the diced onion and a pinch of salt and cook for about 8 minutes, or until the onions are translucent and just starting to brown.
2. Add the garlic and cook for 30 seconds, stirring to make sure it hits the pan and becomes fragrant.
3. Add the tomato paste, chili flakes, and rosemary and cook for 1 more minute.
4. Transfer the mixture to your crockpot. Add the beans, farro, diced tomatoes, vegetable stock, the 1 tablespoon salt.
5. Cover the crockpot and set to cook for 7 hours on the slow-cook low function.
6. Right before serving, add the baby spinach and stir to wilt.
7. When ready to serve, top each portion with a fried egg, some freshly grated Parmesan cheese, a drizzle of good olive oil, and a generous pinch of sea salt.