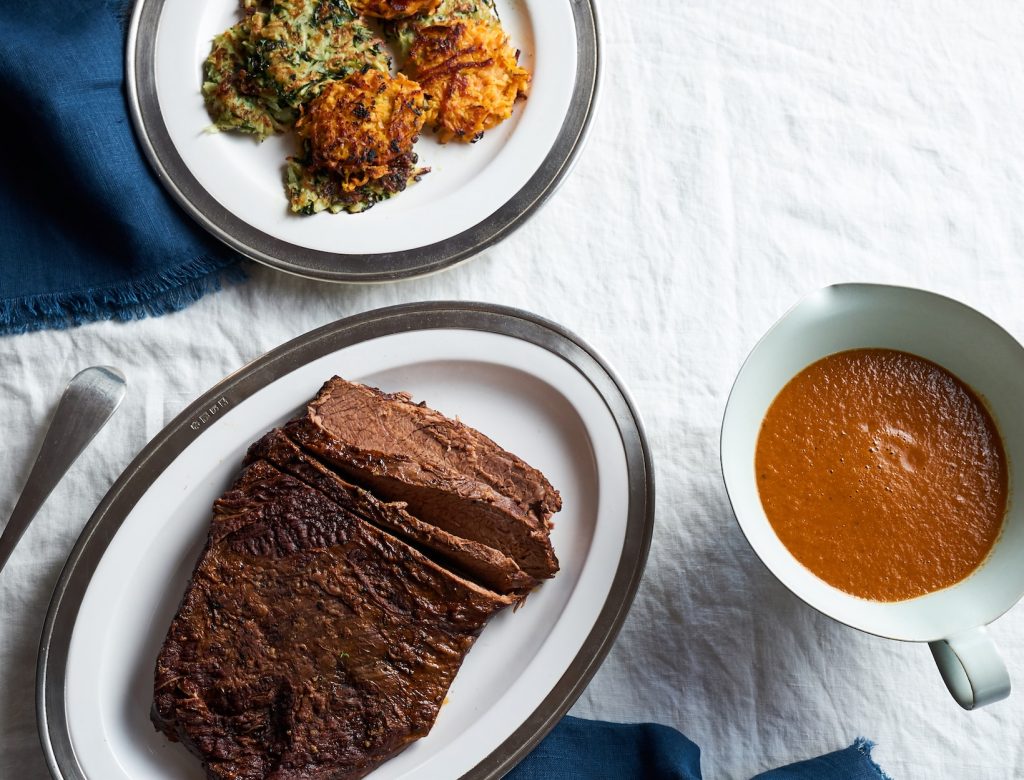 Cooking brisket in the slow cooker is brilliant—flavorful sauce, meltingly tender beef, and very little effort. And since braised meat only gets better as it sits, we recommend making this the day before you're going to serve it. Simply trim off the excess fat and blend the sauce in advance, then slice and reheat just before serving.
1. Season the brisket generously with salt and pepper.
2. Heat a very large sauté pan or roasting pan over medium-high heat, add the oil, and sear the brisket on both sides until nicely browned.
3. Remove the brisket to a 6½-quart slow cooker to rest and add the next 5 ingredients to the pan (add a little more olive oil if the pan looks dry). Sauté for 5 minutes, or until the vegetables are starting to brown.
4. Add the tomato paste and cook for 1 minute, stirring to mix well. Add the flour and cook another minute, stirring well. Add the red wine and cook, stirring often, for 2 minutes or until the alcohol smell has cooked off.
5. Add the balsamic vinegar, tomato sauce, chicken stock, and 2 teaspoons salt and bring to a simmer. Pour the mixture into the slow cooker, set to slow cook on high, and cook for 6 hours.
6. Remove the brisket and trim off any excess fat. Remove the thyme sprigs and blend the sauce with an immersion blender.
7. Slice the brisket and serve with sauce on top.
Originally featured in Souped-Up Latkes and 3 Other Takes on Hanukkah Classics