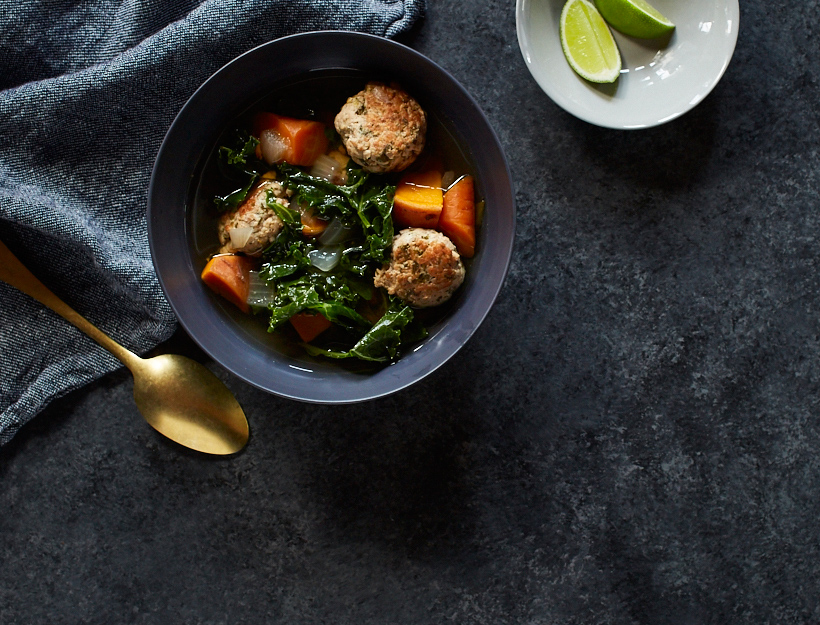 While this slow cooker recipe is a little heavier on the prep side, we think it adds a ton of depth and dimension that you sometimes lose with the "set it and forget it" type recipes. It's worth it—we promise!
1. To make the meatballs, combine the first 9 ingredients—mix well so that the spices are evenly distributed. Form the mixture into 1-inch balls. Heat the oil in a pan and brown the meatballs—you don't need to cook them all the way through, you just want to brown the outside. It'll probably take a couple of batches. Set them aside once they're browned.
2. To roast the poblano, place it directly over the gas flame of your stove (or in the oven under your broiler) until it starts to blacken. Rotate it so it chars evenly on all sides. Once it looks sufficiently charred, remove from the heat, place in a bowl, and cover it with a tea towel. Let it sit for 5 minutes. After 5 minutes you should be able to easily rub off the charred skin to reveal the tender roasted pepper. Then remove the seeds and ribs and dice it.
3. Add the browned meatballs, poblano pepper, onion, sweet potato, carrots, bay leaves, and chicken broth to the slow cooker and set it to low for 8 hours.
4. 10 minutes before serving, remove the bay leaves and add the kale.
5. Serve when the kale has wilted and finish with a squeeze of fresh lime juice.
Originally featured in Wintertime Recipes for the Slow-Cooker Obsessed