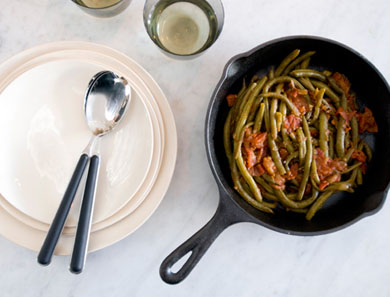 There was some discussion in the test kitchen on whether to use fresh or canned tomatoes for braising the green beans. After a few trials, we decided fresh is best, keeping the dish a bit lighter. Though we love the simply blanched, French-style green bean preparation, slow-braising them with tomatoes makes for an incredibly tasty and warming preparation. Perfect for going into fall.
1. Place a large, wide pot (a dutch oven works well for this) over medium high heat. Coat the bottom of the pot with olive oil and add the onion. Cook for about a minute until soft and translucent, then add the garlic and cook for another minute until soft.
2. Add the green beans and the stock. Using your hands, crush the tomatoes into the pot and mix. Season with salt and pepper. Cover and turn heat down to a medium-low heat. Cook for about 2 hours, until beans are very tender and beginning to fall apart. Serve at room temperature.
Originally featured in Spilling the Beans