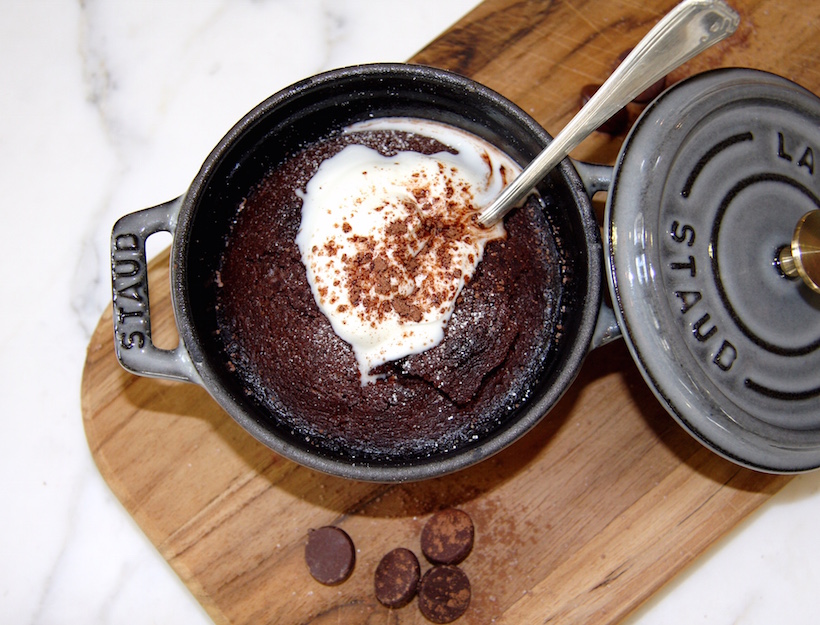 Slightly Salted Brownie Cake
This dessert is almost as easy to make as boxed brownies and so much more impressive. Make the batter in the morning, pour into ramekins and store in the fridge until you're ready to bake.
1. Lightly grease two 6-ounce ramekins with butter or cooking spray.
2. In a small saucepan, melt the butter and chocolate together over medium low heat, whisking every so often to make sure the chocolate doesn't burn. Once the mixture is melted and smooth, remove the pan from the stove and whisk in sugar and vanilla. Add the flour, whisk, then add the egg and whisk until everything is incorporated. Use a spatula to divide the batter evenly between the two ramekins. At this point you can cover with plastic wrap and store in the fridge for up to 24 hours.
3. To cook, bake in a 375 degree oven for exactly 18 minutes. Serve plain, with freshly whipped cream, crème fraîche, or your favorite ice cream.
Originally featured in Date Night Dinners