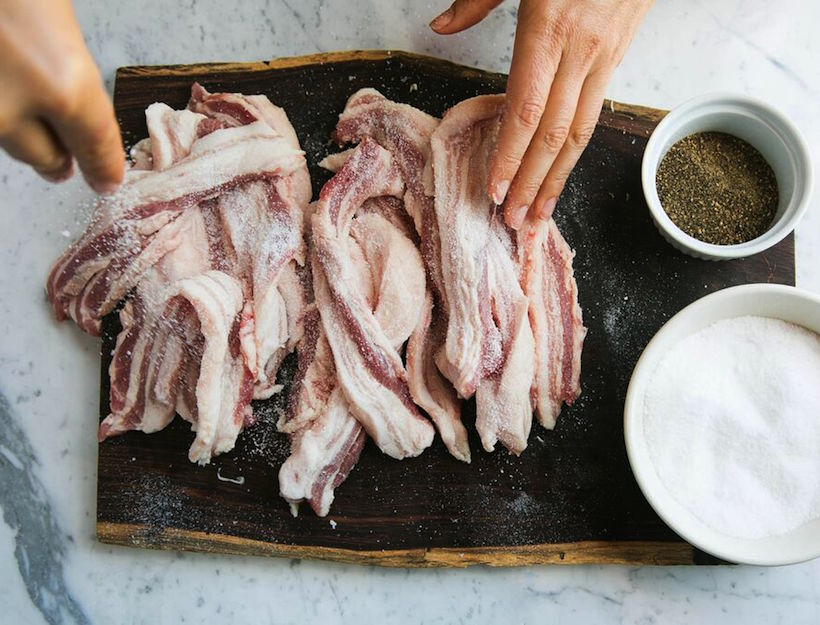 Sliced Pork Belly with Bagna Cauda
Before this, the only grilled pork belly we'd eaten was at Korean BBQ joints. And while we love a soy-based marinade on just about anything, this Italian-inspired pairing of fatty pork and anchovy-laced bagna cauda sauce might be even better. The bagna cauda is a little time-consuming to make, so if you're short on time, skip it. The pork is still incredible on its own.
1. First, make the bagna cauda. Put the anchovies in a bowl, cover with cold water, and let soak for 30 minutes. Drain and pull the anchovies into halves, discarding the bones and setting the fillets aside.
2. Separate the heads of garlic into cloves but do not peel them. Place the whole, unpeeled garlic cloves into a small saucepan and add the milk. Bring to a boil over medium-high heat, then lower to a simmer until the cloves are tender, about 15 minutes. Drain, discarding the milk.
3. Pass the garlic and anchovy fillets through the widest setting of a food mill. If you do not have a food mill: peel the garlic before boiling in milk, put the whole cooked cloves together with the anchovy fillets into the oil/butter mix and cook, mashing with a fork as it cooks.
4. Transfer the garlic-anchovy paste to a medium pot set on a diffuser over very low heat, if you do not have a diffuser but have an electric stove, you're in luck! Just use the lowest setting on your electric stove. If you have a gas range but no diffuser, either use a thick cast-iron pan as a diffuser—placing it below your saucepan, or, just put it on the smallest flame you have and keep an eye on it so it doesn't burn. Use a spoon to stir frequently. Add the oil and butter and cook for at least 30 minutes or up to 2 hours. The mixture should never bubble or brown; if it does, lower the heat.
5. Season with salt. The bagna cauda is now ready to use. If serving as a dip for vegetables, pour the sauce into a fondue or bagna cauda pot and set over a candle to keep warm. Bagna cauda can be made a day ahead and gently reheated before using. Leftover bagna cauda will keep, refrigerated, for a week.
6. While the bagna cauda cooks, slice the pork belly into thin strips (about 1/3-inch thick) using a very sharp knife. Season generously with salt, sugar, ground pepper and 1 crushed bay leaf and let sit at room temperature while you prepare the grill.
7. Light charcoal (we highly recommend a chimney) 20-30 minutes before you want to start cooking. When all the coals are glowing and have an ashy exterior, dump them on one side of the grill for indirect cooking.
8. Cook pork belly on the cooler side of the grill (since pork belly is so fatty, it's best to cook entirely over indirect heat to avoid flare-ups) for about 3-5 minutes per side, until crispy and tender.
9. Serve with bagna cauda on the side.