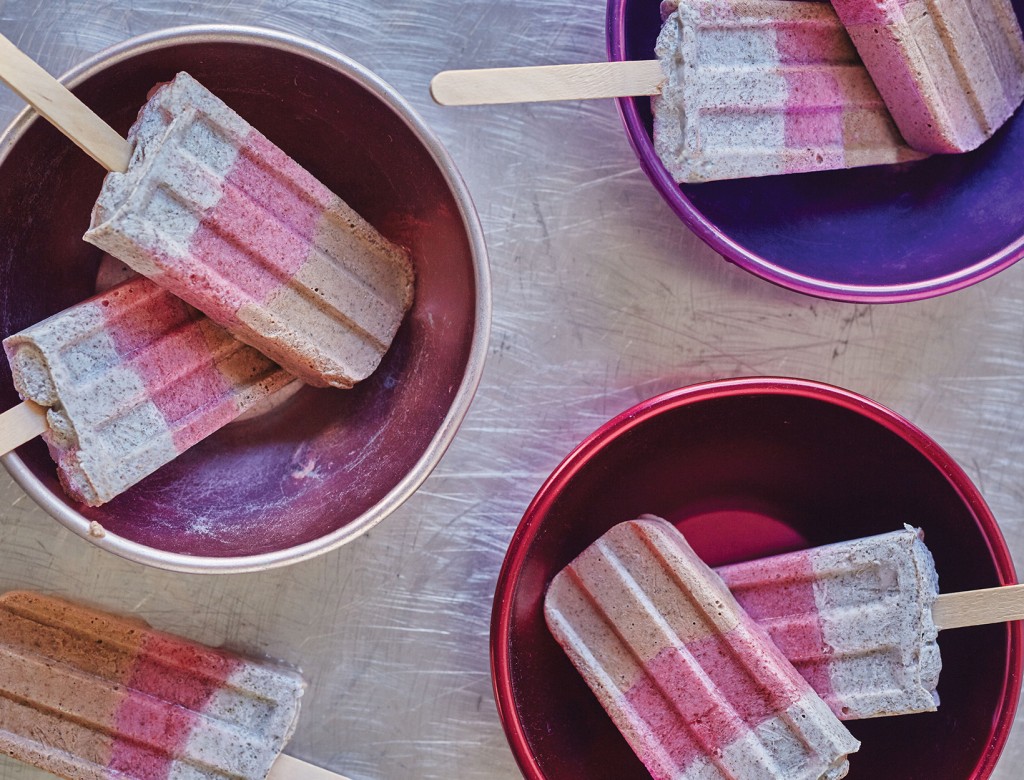 Skin-Glowing Neapolitan Pops
"Chia seeds are the secret that allows this pop's layers to remain distinct, while also adding fiber, protein, and good fat to plump your skin and make it glow. I love to use chia seeds in pop recipes because they give the pops a creamy, almost gelato-like texture, and these are no exception—the final result is as decadent as a childhood ice cream sandwich. Strawberries, beyond being the pretty, fruity counter to the vanilla and chocolate, are rich in vitamin C, which helps create skin-boosting collagen."
1. In a small saucepan, cook the strawberries over low heat, breaking them up with the back of a wooden spoon, for about 20 minutes, or until completely thawed. Bring to a simmer and cook, stirring occasionally, for 10 minutes more.
2. Transfer ⅓ cup of the strawberry compote to a small bowl and add the ⅓ cup milk and 2 tablespoons of the chia seeds.
3. In a separate small bowl, stir together the remaining 1¼ cups milk and 3½ tablespoons chia seeds. Let both sit for 15 minutes, or until a thick gel forms.
4. Transfer the milk-chia mixture to a blender. Add half the salt, 1½ teaspoons of the vanilla, and 2½ tablespoons of the honey. Blend until smooth, stopping to scrape down the sides of the blender as needed. Set aside half the mixture.
5. Add the cacao powder to the mixture in the blender and blend until combined. Transfer to a bowl and rinse out the blender.
6. Blend together the strawberry-chia mixture and the remaining 1¼ teaspoons honey, salt, and ½ teaspoon vanilla extract until smooth.
7. Spoon the chocolate mixture into each pop mold until it is one-third full, then add the strawberry mixture until the molds are two-thirds full, and fill the remaining space in the molds with the vanilla mixture. Tap the molds on the counter between each layer to remove any air bubbles.
8. Freeze for 1 hour, then insert sticks and freeze for 6 hours more or overnight, until solid.
Reprinted from Glow Pops: Super Easy Superfood Recipes to Help You Look and Feel Your Best. Copyright © 2017 by Liz Moody. Photographs copyright © 2017 by Lauren Volo. Published by Clarkson Potter, an imprint of Penguin Random House, LLC.
Originally featured in Superfood Popsicles That Taste as Good as They Look