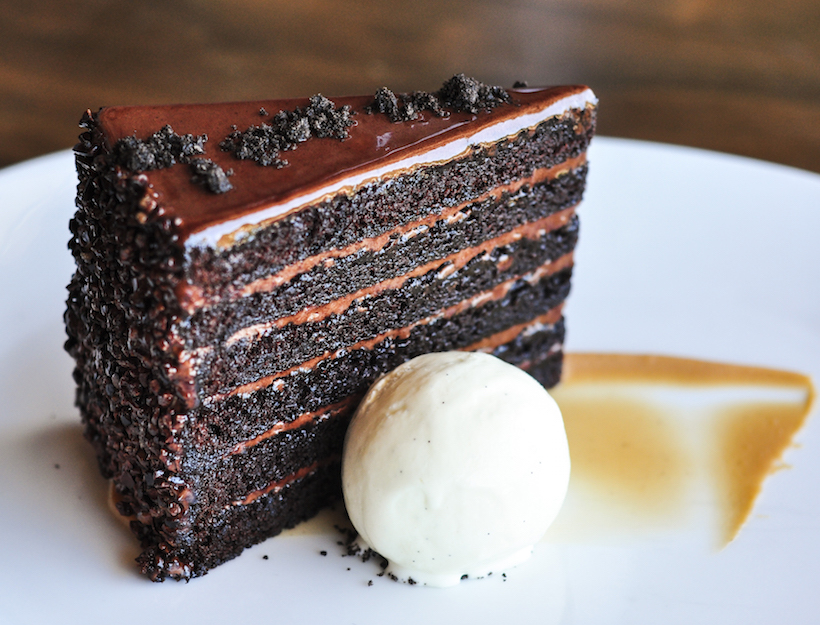 Six-Layer Chocolate Cake
This is rich and decadent—perfect for a homemade birthday cake.
for the cake:
573 grams all-purpose flour
855 grams sugar
188 grams cocoa powder
4 teaspoons baking powder
2 teaspoons baking soda
2 teaspoons salt
16 ounces buttermilk
8 ounces vegetable oil
4 eggs
2 teaspoons vanilla
16 ounces hot coffee
for the frosting:
1 pound powdered sugar
1 pound butter, at room temperature
⅔ cup cocoa powder
¼ cup corn syrup
2 tablespoons hot water
1. Preheat the oven to 350℉.
2. Combine the flour, sugar, cocoa, baking powder, baking soda, and salt in the bowl of a stand mixer fitted with the paddle attachment. Turn the machine to low and mix well.
3. Slowly pour in the vegetable oil, scraping down the sides as needed.
4. Next, add the buttermilk and eggs, mixing at medium speed until all the ingredients are incorporated and the batter is smooth.
5. Slowly add the hot coffee, and when all is combined, pour into 2 greased 9-inch cake pans.
6. Bake for 25 to 30 minutes, or until a toothpick comes out clean.
7. Let cool on racks.
8. To make the frosting, wash out the mixing bowl, add softened butter and powdered sugar, and cream until light and fluffy, about 5 minutes.
9. Scrape down the bowl, add the cocoa powder and corn syrup, and mix for another 2 minutes.
10. Add the hot water and mix until combined.
11. To assemble, slice each cake into 3 layers. Stack, spreading a layer of frosting on top of each cake slice and finishing with a layer of frosting on top.