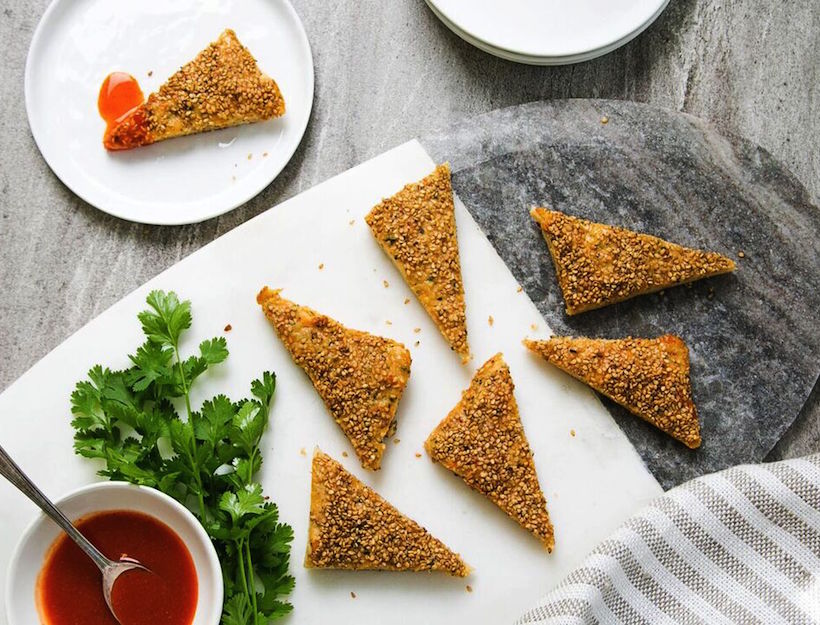 This throwback Chinese appetizer is a perennial crowd-pleaser. Make the shrimp paste in the morning so all you have to do is quickly pan-fry the bread and broil before serving.
1. Preheat the broiler.
2. Combine the ginger, cilantro, and scallion in food processor and blend for 5 seconds. Add the shrimp and pulse 10 times for 1 second each time, scraping down the sides of the bowl after 5 pulses. Add the soy sauce, sriracha, sesame oil, and egg white and blend just to combine.
3. Use a knife or spatula to spread the shrimp mixture evenly over the 5 pieces of white bread. Sprinkle over sesame seeds and use your hands to gently press them into the shrimp paste.
4. Heat a sauté pan over medium-high heat, add about ½ tablespoon butter, and fry the shrimp toast (bread side down, shrimp side up) until lightly browned. Remove to a cooling rack set over a baking sheet and continue frying the rest of the bread, adding butter to the pan as needed.
5. When all 5 pieces are pan-fried, place the baking sheet in the oven and broil for about 3 minutes, or until the shrimp mixture is lightly golden and cooked through.
6. Remove the toasts, cut off the crust, and cut each slice into 4 triangular pieces.
7. Serve warm with hot sauce on the side, if desired.