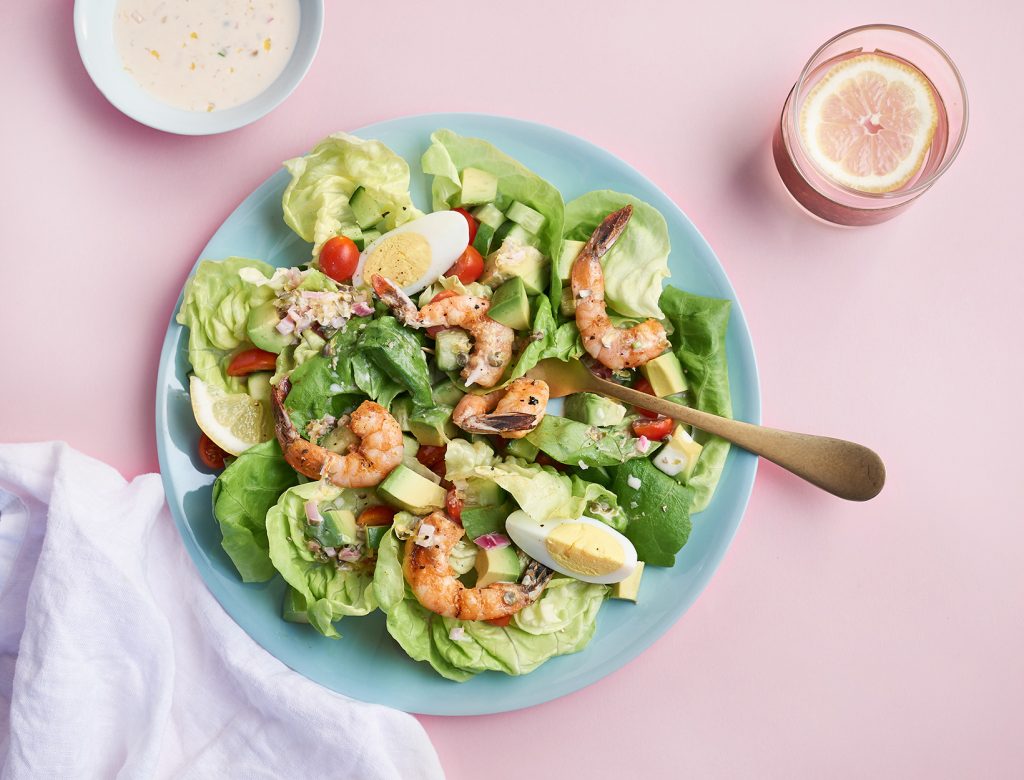 Shrimp Louie
We love a country club classic around here, and the Shrimp Louie is no exception. It's the perfect mix of cool and crunchy with a little heat—perfect to enjoy poolside or after a quick round of doubles.
for the shrimp marinade:
¼ pound shrimp, shelled and deveined
½ teaspoon tabasco sauce
1 clove garlic, grated
1 tablespoon olive oil
for the dressing:
scant ¼ cup mayo, vegenaise, or homemade aioli
1 tablespoon diced shallot
1 tablespoon capers, roughly chopped
1 teaspoon tabasco
zest and juice of 1 lemon
to assemble:
1 small head butter lettuce
¼ cup cherry tomatoes, halved
1 Persian cucumber, diced
½ avocado, cubed
1 hard boiled egg, quartered
1. First, combine the shrimp with the marinade ingredients. Let sit in the fridge while you prep the veggies and dressing.
2. For the dressing, simply whisk together all the ingredients.
3. Assemble the veggies for the salad.
4. Heat a grill pan over medium-high heat. When it's hot, grill the shrimp for a minute or two on each side, or until they turn pink and opaque.
5. To plate, arrange a base of torn butter lettuce leaves. Then scatter on the halved cherry tomatoes, diced cukes, and cubed avocado. Finish with the quartered eggs and grilled shrimp, then drizzle the dressing over the top.
Originally featured in Refreshingly Simple Salad Ideas for When It's Hot Out