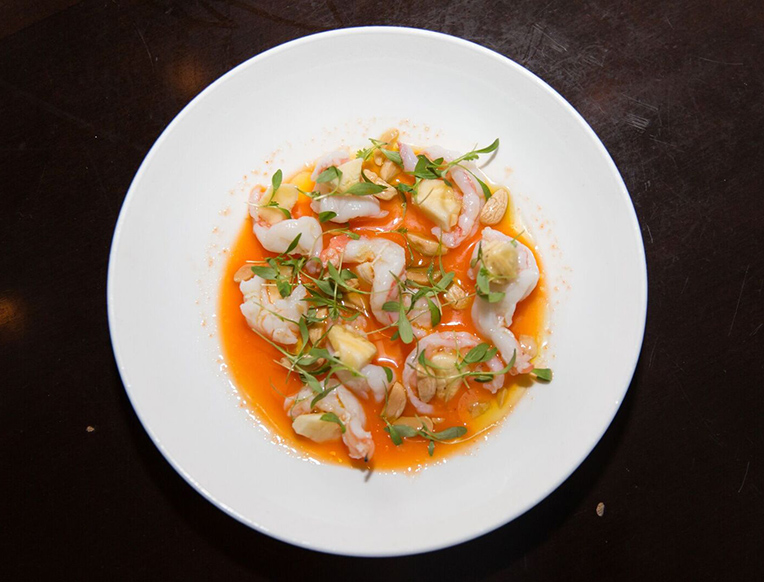 Shrimp Ceviche in "Agua Diablo"
This combination of flavors sounds bananas (pun intended), but it's seriously delicious. Don't make this if you don't like things spicy!
for the shrimp:
1 ⅔ cup Carolina white shrimp, peeled, cut in ½ from head to tail, deveined
¾ teaspoons salt
1 tablespoon mint sprigs, bottom ⅓ stem removed, bruised last minute
8 ½ cups boiling water
for the "agua diablo":
1 ¼ cups fresh lime juice
¼ cup clementine juice
1 teaspoon clementine peel, all pith removed
3 tablespoons red finger chiles, ½ of the seeds removed
2 teaspoons red habanero chiles, ribs and seeds removed
2 teaspoons garlic, germ removed
1 ½ tablespoons salt
to serve:
20 roasted and salted Marcona almonds, roughly chopped
1 ripe banana, cut into ¼-inch slices
Micro cilantro
Olive oil
Sea salt
1. Mix together the shrimp, salt, and bruised mint and let stand 15 minutes. Transfer to a bain marie and pour all of the water over the mixture. Cover with plastic wrap and let poach for 1 minute. Strain off all the liquid, spread on a baking sheet, and cool in the freezer for 15 minutes.
2. To make the "agua diablo," combine all ingredients in a blender and blitz until smooth. Strain through a fine mesh sieve and chill in the fridge until ready to use.
3. To serve, divide the shrimp between 6 plates, pour over the "agua diablo" sauce and top with chopped almonds and banana slices. Garnish with micro cilantro, drizzle each plate with a little olive oil, and finish with a sprinkling of sea salt.
Originally featured in DIY Recipes from the Matador Room