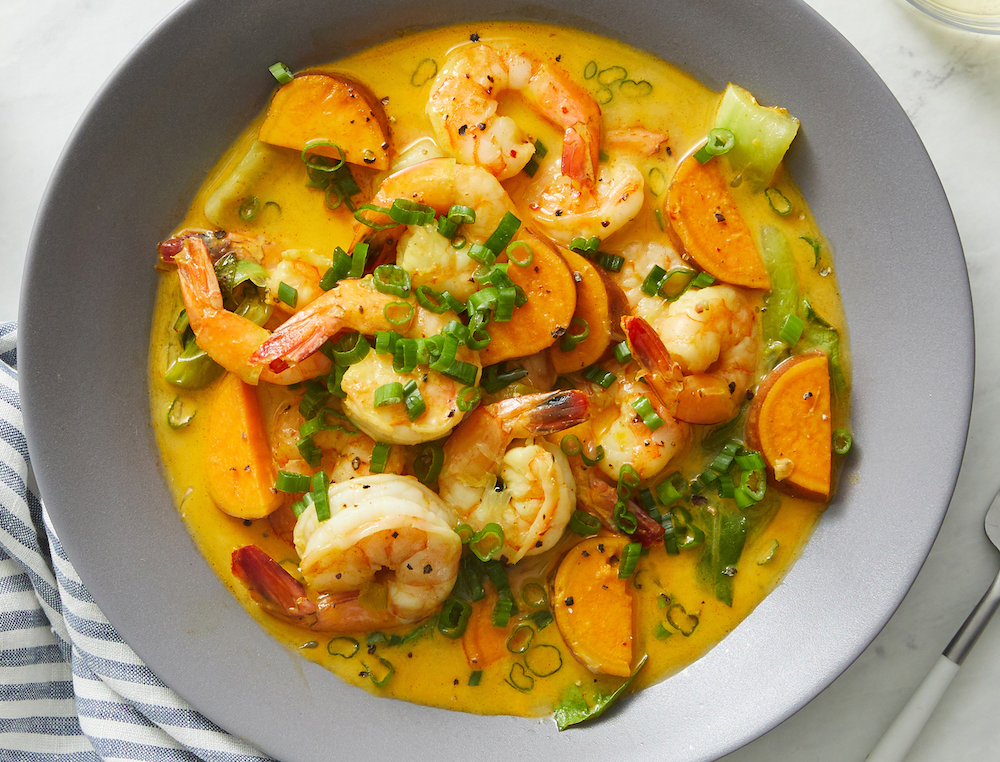 Shrimp and Sweet Potato Curry with Lemongrass and Coconut Milk
In about the same amount of time you'll spend on takeout, you could make this recipe. And: It tastes incredible and feels so much better to eat.
1. Prepare the ingredients: Wash and dry the fresh produce. Thinly slice the scallions, separating the white bottoms and hollow green tops. Halve the sweet potato lengthwise; cut crosswise into ¼-inch pieces. Using the back side of your knife, smash the lemongrass to release the oils; cut crosswise into 2-inch pieces. Quarter the bok choy lengthwise through the stem ends. Cut off and discard the bottom inch of the bok choy stems; separate the leaves. Halve the lime crosswise.
2. Start the curry: In a large, high-sided pan (or pot), heat 2 teaspoons of olive oil on medium-high until hot. Add the curry paste and sliced white bottoms of the scallions. Cook, stirring frequently, 1 to 2 minutes, or until thoroughly combined and fragrant. Add the coconut milk (carefully, as the liquid may splatter), sliced sweet potato, smashed lemongrass, and ½ cup water; season with salt and pepper. Cook, stirring occasionally, 13 to 15 minutes, or until the sweet potato is tender when pierced with a fork.
3. Finish the curry: Once the sweet potato has cooked about 10 minutes, pat the shrimp dry with paper towels; season with salt and pepper. Add the seasoned shrimp and prepared bok choy to the pan. Loosely cover with foil and cook, stirring occasionally, 3 to 5 minutes, or until the shrimp are opaque and cooked through. Turn off the heat. Carefully remove and discard the lemongrass pieces. Taste, then season with salt and pepper if desired.
4. To serve: Garnish the finished curry with the sliced green tops of the scallions. Serve with the lime halves on the side; garnish with as much of the juice as you'd like.