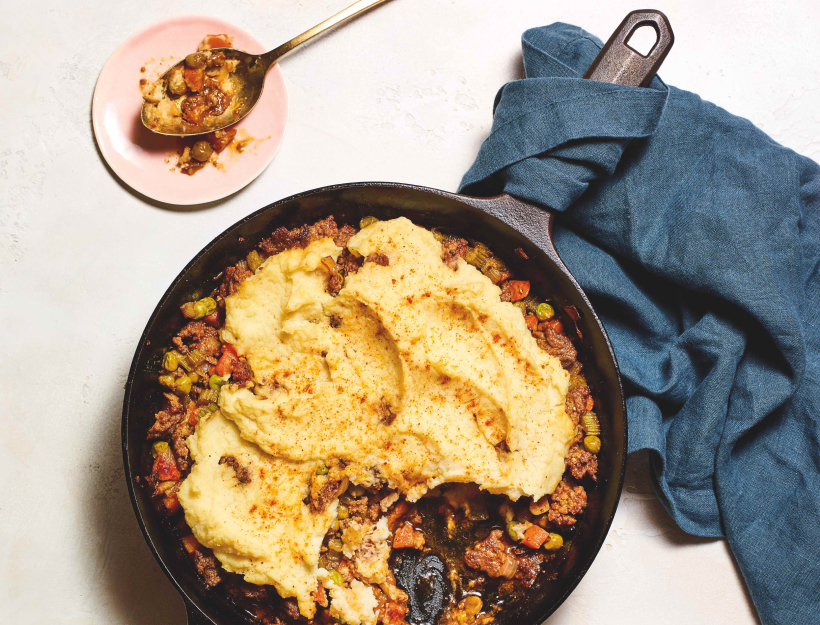 Shepherd's Pie with Celery Root Top
"My husband is British and loves a savory pie. I never quite understood it until I started experimenting with this dish. The celery root top is immensely flavorful and makes a great substitute for potatoes."
1. Preheat the oven to 350°F.
2. In a large stockpot, bring 2 quarts of generously salted water to a boil. Add the celery root, bring back to a boil, and then reduce the heat to medium. Cook the celery root until it is softened and a knife easily cuts through, about 7 to 10 minutes.
3. In a cast-iron skillet over medium heat, sauté the ground lamb, breaking it apart with a wooden spoon and stirring occasionally until fully cooked, about 6 to 8 minutes. Season with salt and pepper.
4. Remove the lamb from the skillet and strain and discard excess fat, leaving just a thin coating that the vegetables will be cooked in.
5. To the same skillet over medium heat, add the carrots, celery, onion, and garlic and sauté for 4 to 6 minutes.
6. Add the tomato paste and stir to combine. Add the peas, followed by the paprika, cumin, and cinnamon, and continue to cook. Season with salt and pepper.
7. Return the lamb to the skillet, stir to combine, then add the broth. Sprinkle the gluten-free flour on top and stir the mixture. Reduce the heat to low and allow the mixture to simmer.
8. Meanwhile, drain the celery root, then add the coconut milk and purée with a hand blender until smooth. Season with salt and pepper to taste.
9. Spread the celery root mash evenly over the lamb mixture in the skillet and bake for 20 to 25 minutes, or until lightly browned on top and the gravy peeps through the sides.
10. Remove from the oven and sprinkle with paprika.
Excerpted from Foodwise. Copyright © 2023, Mia Rigden. Reproduced by permission of Simon Element, an imprint of Simon & Schuster. All rights reserved.
Originally featured in 3 Satisfying Weeknight Dinner Recipes from a Holistic Nutritionist