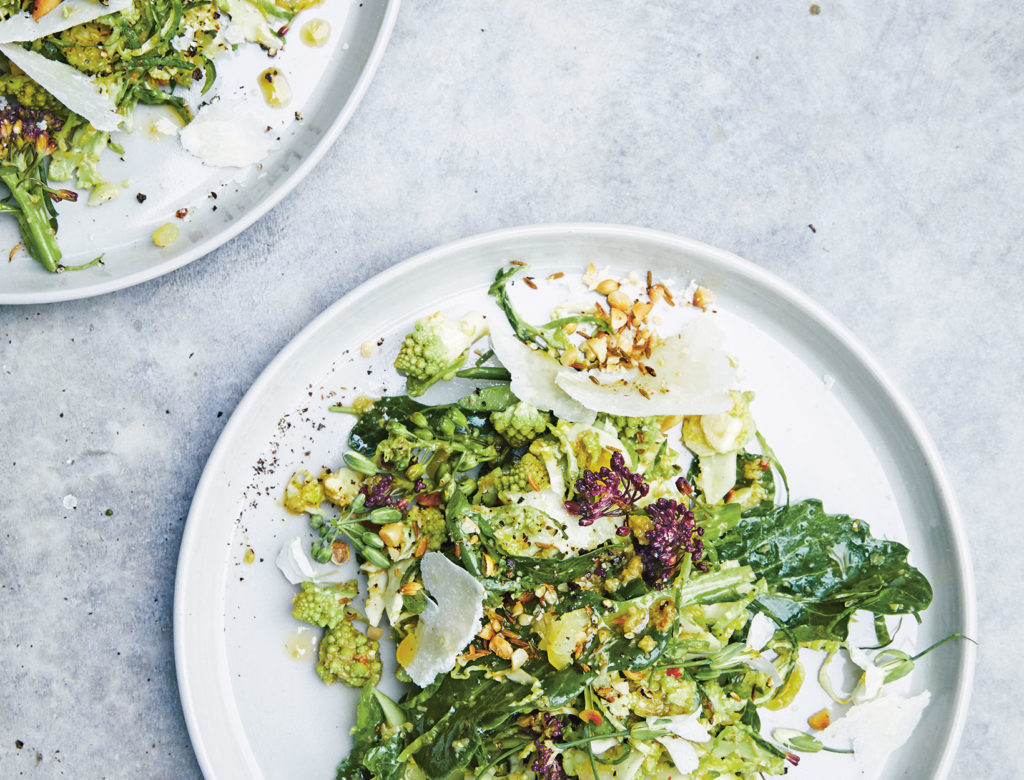 "So often brassicas are roasted or grilled. When in season and young, this hearty winter salad is great raw. Although thinly shaved, these greens are sturdy enough to withstand the robust dressing." —Vivian Lui
1. Toast the pine nuts in a small frying pan over medium-low heat for 5 minutes until fragrant. Add the sesame, coriander and cumin seeds and toast for another 3 minutes, or until the pine nuts are golden. Remove from the pan to cool, then roughly chop or smash with a mortar and pestle. Set aside.
2. Quarter the romanesco and thinly slice crossways with a mandoline. Place the romanesco, Brussels sprouts and broccolini in a large bowl and set aside.
3. Place the olives, lemon zest and juice, marjoram, anchovies and chili flakes in a food processor. With the motor running, add the olive oil and process until a smooth dressing forms, scraping down once if necessary. Add the dressing to the vegetables, then add the preserved lemon and toss thoroughly, massaging the vegetables to soften slightly. Season lightly.
4. Divide the salad among 4 shallow bowls. Top with shaved Parmesan and a sprinkle of the pine nut spice mixture.
Recipe extracted from Eat California by Vivian Lui published by Smith Street Books. Photography © Con Poulos. Food stylist © Vivian Lui.