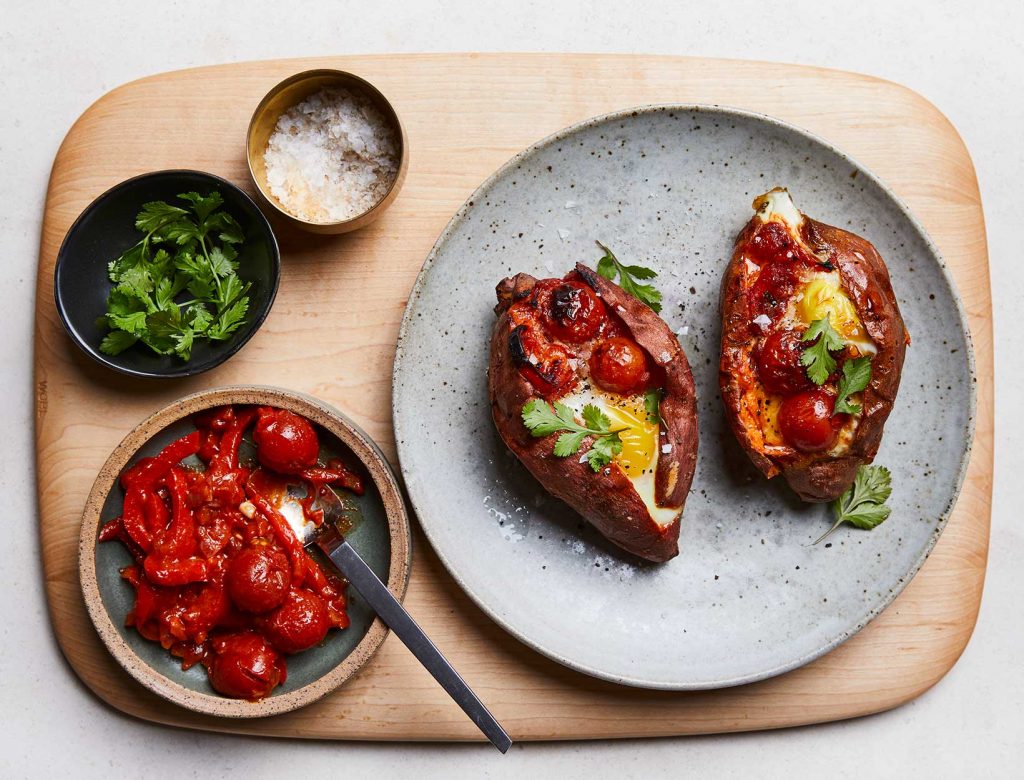 Full of deep, warming flavors, this shakshuka is satisfying and delicious.
1. Preheat oven to 400°F. Line a sheet tray with parchment paper. Wash, scrub, and dry the sweet potato. Poke the sweet potato thoroughly with a fork, then cook for 45 minutes to 1 hour, until it's soft on the inside (timing will vary depending on thickness and size of sweet potato).
2. For the shakshuka sauce, warm a medium skillet over medium heat. Add olive oil, onion, and bell pepper. Cook gently until onions start to caramelize and peppers are very soft, about 15 minutes. Add garlic, cumin, and paprika, and cook for about 3 minutes until everything is well combined and garlic becomes fragrant. Pour in tomatoes and season with a pinch of salt and the black pepper. Stir and simmer until tomatoes have thickened, about 10 minutes.
3. Once the sweet potato is done, cut it lengthwise about halfway through to create a pocket, then use a fork to smash down the center of the sweet potato to create a deeper pocket.
4. Spoon the shakshuka mixture into the potato, then make a large groove in the center for an egg.
5. Crack an egg into the center of the groove, then bake at 400°F for another 10 to 15 minutes, until egg is cooked.
6. Finish with cilantro and salt to taste.
Originally featured in The Grain-Free, Vegetarian Breakfast Solution: Sweet Potatoes