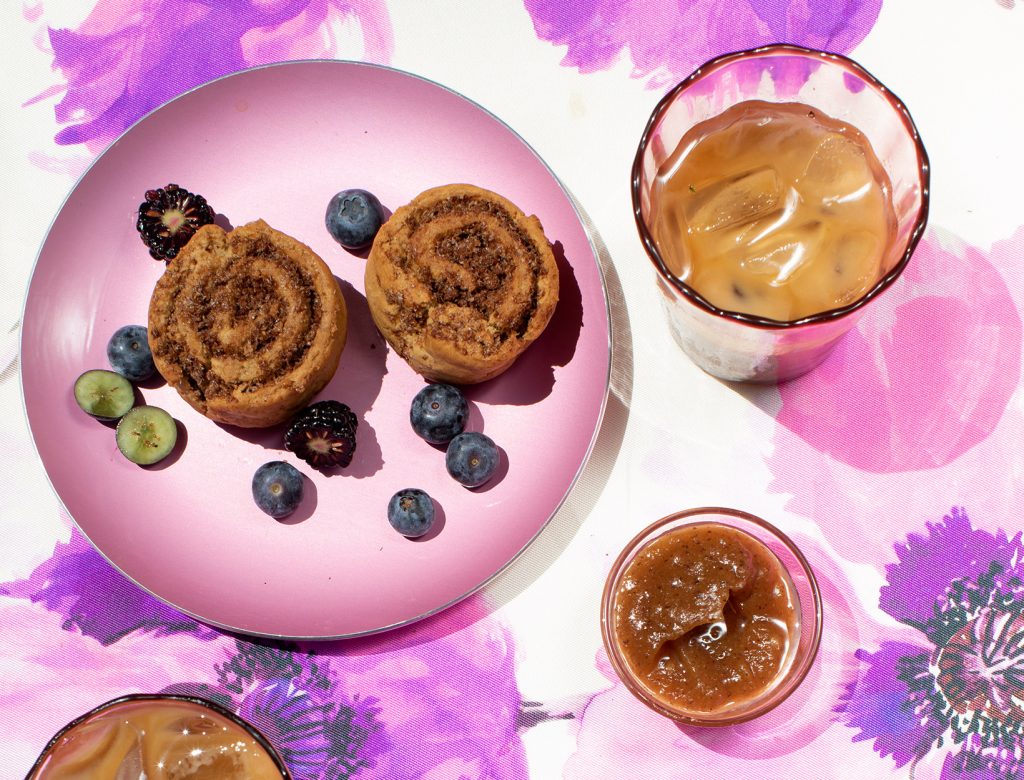 Everyone deserves cinnamon rolls! This recipe is so fun and tasty that we had to share it. Our healthy twist on the sweet classic has an X factor ingredient: Mucuna pruriens, a Chinese herb rumored to boost mood and libido.
1. Make the dough: In a small pot, gently warm the milk over medium-low heat until it is warm to the touch. Remove from heat and add the yeast plus ½ tablespoon oil and ½ tablespoon sugar. Set aside to proof for 10 minutes, until the yeast is frothy. Add 1½ tablespoons oil and the remaining 1½ tablespoons sugar.
2. In the bowl of a stand mixer fitted with the paddle attachment, combine the potato starch, oat flour, rice flour, tapioca starch, baking powder, Mucuna pruriens, baking soda, xanthan gum, and salt. Mix on low speed for about 30 seconds to evenly combine.
3. Add the yeast mixture, applesauce, and vanilla to the bowl and mix on high speed for 5 to 6 minutes. The dough will be pretty tacky. Cover the bowl with plastic wrap and refrigerate overnight.
4. Make the filling: In a medium bowl, blend the sugar and oil until smooth. Stir in the psyllium husk powder and cinnamon. Add the milk, if needed, to adjust the consistency—you're looking for a crumbly mixture that sticks to itself slightly.
5. Assemble and bake the rolls: Cover a clean work surface with plastic wrap and sprinkle with tapioca starch. Turn out the dough onto the plastic and cover with a second sheet of plastic wrap. Using a rolling pin or your hands, shape the dough into a roughly 8×9-inch rectangle, about ⅛ inch thick. Remove the top sheet of plastic wrap and gently spread the dough with the remaining 1 teaspoon of the oil. Scatter the filling evenly and generously over the top of the dough. (You may not use all the filling, and that's okay.) Using the plastic wrap to help lift one of the short ends of the dough, tightly roll the dough into a cylinder. Leave the roll wrapped in plastic and transfer it to the refrigerator to chill for 30 minutes.
6. Make the caramel: In a blender, combine the dates, maple syrup, and salt with ½ cup warm water and blend until smooth.
7. Preheat the oven to 325°F. Grease 6 tins of a muffin pan with oil.
8. Slice the dough into 6 1½-inch pieces. Carefully place the rolls, swirl side up, into each of the muffin cups. It's okay if the dough tears—simply pinch it back together in the pan. Bake for 35 minutes, or until the tops are golden and slightly firm to the touch.
9. Drizzle or slather the rolls with the caramel while still warm. Enjoy steaming hot.
From Eat Clean, Play Dirty: Recipes for a Body and Life You Love by the Founders of Sakara Life by Danielle DuBoise and Whitney Tingle, published by Abrams, © 2019. Photographs by Sakara Life.
Originally featured in Sex and the Single Cinnamon Roll