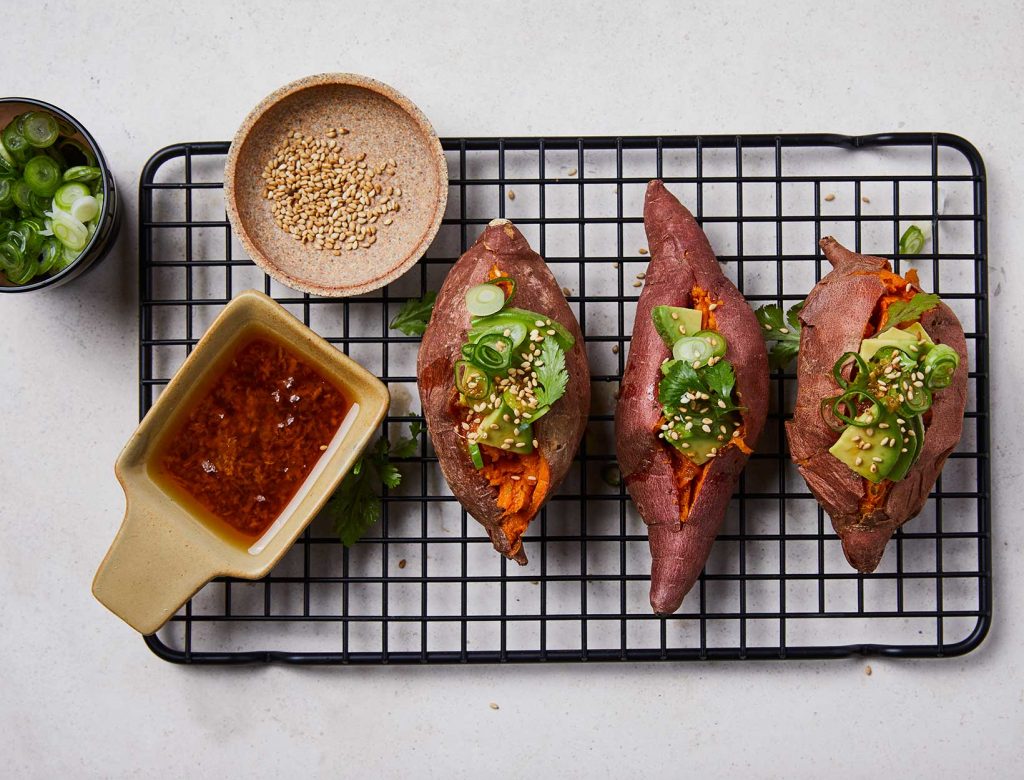 Sesame Sweet Potato
This super savory sweet potato breakfast has all the textures: crunchy cool cucumber and radish, delicately crispy sesame seeds, and creamy avocado.
1 medium sweet potato
1 teaspoon grated garlic
1 teaspoon grated ginger
2 tablespoons tamari
1 tablespoon rice vinegar
2 tablespoons sesame oil
½ avocado, diced
¼ cup grated daikon
1 Persian cucumber, thinly sliced (using a mandoline is best)
1 scallion, thinly sliced
3 sprigs cilantro
toasted sesame seeds
Optional:
Sriracha
1. Preheat oven to 400°F. Line a sheet tray with parchment paper. Wash, scrub, and dry the sweet potato. Poke the sweet potato thoroughly with a fork, then cook for 45 minutes to 1 hour, until it's soft on the inside (timing will vary depending on thickness and size of sweet potato).
2. To make the dressing, combine garlic, ginger, tamari, rice vinegar, and sesame oil in a medium bowl.
3. Once the sweet potato is done, cut it lengthwise about halfway through to create a pocket. Add avocado, daikon, cucumber, and cilantro, then add a few spoonfuls of the sesame dressing over the top. Finish with scallions, a pinch of sesame seeds, and a drizzle of Sriracha, if desired.
Originally featured in The Grain-Free, Vegetarian Breakfast Solution: Sweet Potatoes