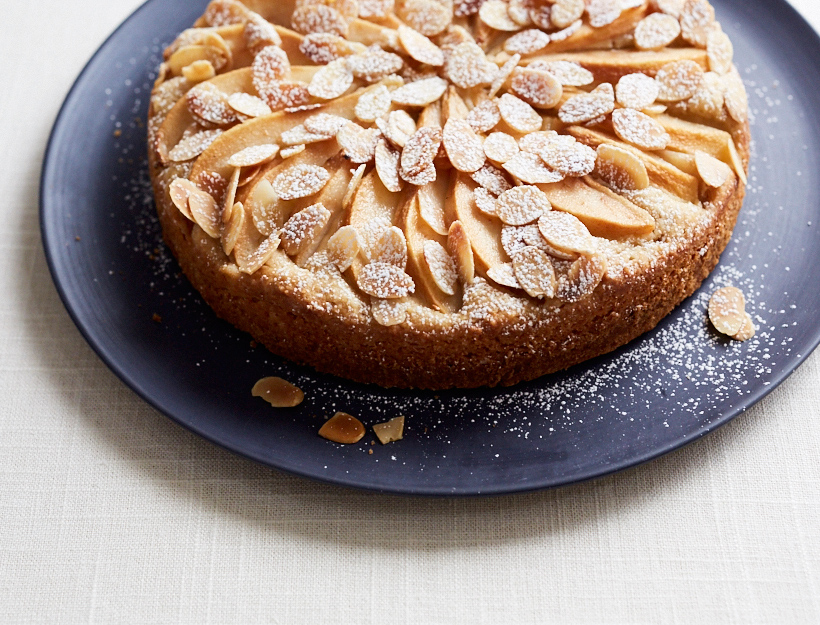 Sesame Almond Cake with Pear
This dense and delicious cake is just sweet enough. We like it for breakfast the next day, too.
1. Warm the oven to 350℉, then grease and flour a 9-inch cake pan.
2. Mix the almond milk and lemon together and set aside.
3. In a medium bowl, whisk together the flours, baking powder, and salt.
4. In small bowl, whisk together the sugar, tahini, oil, extracts, and almond milk mixture, making sure that they are all well combined.
5. Make a crater in your dry ingredients bowl and pour in the wet stuff. Fold it all together until it's just combined (a couple lumps are okay).
6. Pour into the pan and gently place the pear slices over the top in a single layer. It's cool if a few kind of sink in—don't stress.
7. Cook for 15 minutes, then quickly pull out the cake and cover the top evenly in the sliced almonds.
8. Bake for another 35 to 40 minutes or until it looks golden and a toothpick stuck in the center comes out mostly clean.
9. Let it cool for at least 15 minutes, then dust with powdered sugar before serving.
Originally featured in Love Means Never Having to Share Your (Homemade) Spring Rolls