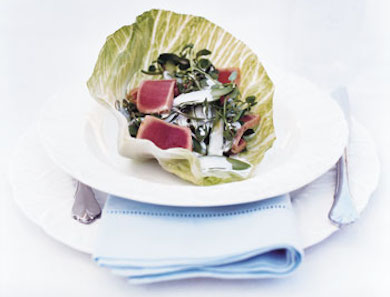 Seared Tuna Lettuce Cups
This recipe is quick, easy and most importantly delicious! I know it's still winter in most of the US but it feels like summer here in California and this is the perfect meal to eat on a warm sunny day.
3/4 cup asparagus, trimmed and blanched
1 1/2 cups watercress sprigs
8 iceberg lettuce leaves, trimmed into cups
2 x 200g loin fillets sashimi-grade tuna, trimmed
vegetable oil, for brushing
cracked black pepper
for the lime mayonnaise:
1/2 cup whole-egg mayonnaise
2 tablespoons lime juice
1 teaspoon finely grated lime rind
To make the lime mayonnaise, combine the mayonnaise, lime juice, and lime rind. Set aside. Finely slice the asparagus. Toss with the watercress and place in the lettuce cups. Heat a non-stick frying pan over high heat. Slice each piece of tuna into three, brush with oil, and sprinkle with pepper. Sear the tuna for 10-20 seconds on each side then slice into 24 slices, 5 mm thick. Divide the tuna slices among the lettuce cups and drizzle with the lime mayonnaise.
Originally featured in You Are the River