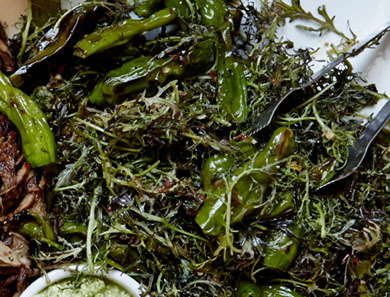 Seared Shishito and Mizuna Salad
This delicious seaweed-salad like side—care of Kitchen Mouse in LA—is perfectly tangy.
Shishito peppers (or padrones)
Red Mizuna (arugula or frisée are good alternatives if you can't find mizuna)
Dash of olive oil
Pinch of salt
for the lemon chili dressing:
2 cups lemon juice
1 cup olive oil
4 teaspoons salt
2 tablespoons sambal
2 tablespoons ginger, minced
2 tablespoons chives, chopped
Cut the tops off your peppers and sear them in a super hot pan with just a bit of olive oil and a good pinch of salt. Toss with mizuna, and top with Lemon Chili Dressing.
Originally featured in Insane Catering: Kitchen Mouse