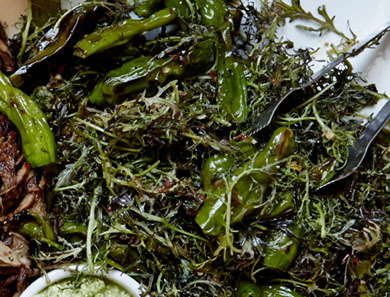 Seared Shishito and Mizuna Salad
This delicious seaweed-salad like side—care of Kitchen Mouse in LA—is perfectly tangy.
1. Cut the tops off your peppers and sear them in a super hot pan with just a bit of olive oil and a good pinch of salt.
2. Combine all the ingredients for the lemon chili dressing. (This will make more than enough for the salad and will keep in the fridge, so you can use it all week long.)
3. Toss the peppers with the mizuna and top with the dressing.
Originally featured in Insane Catering: Kitchen Mouse