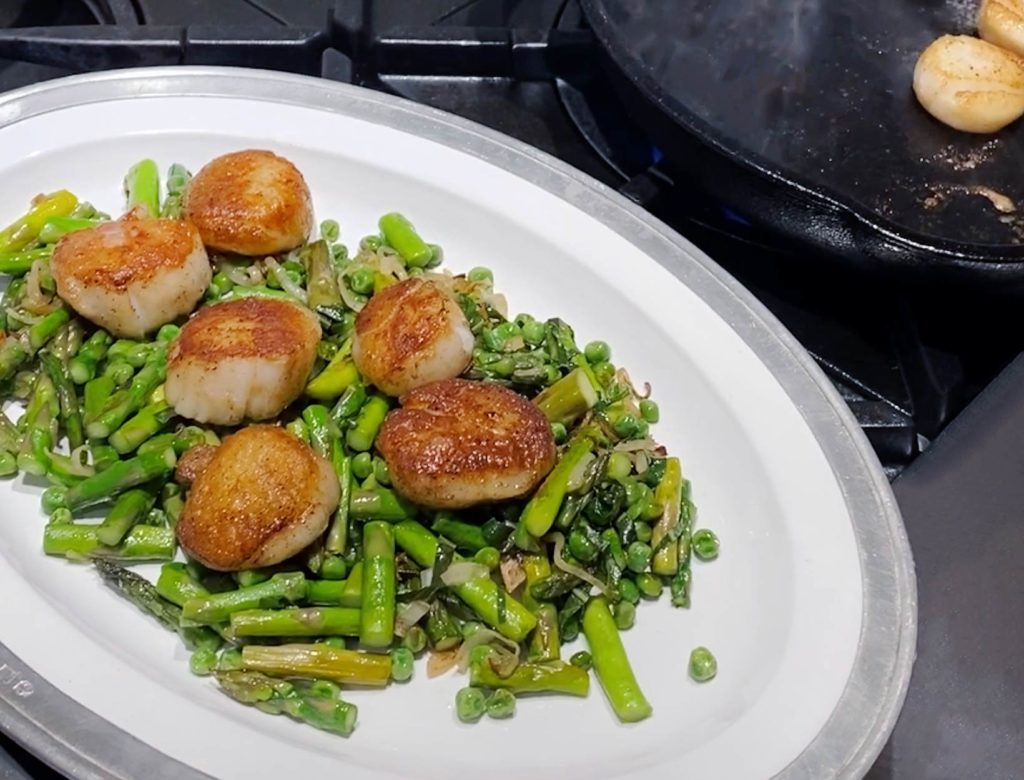 Seared Sea Scallops over Sautéed Asparagus and Peas
From GP's kitchen: a simple dinner that is so satisfying. It leans on a few fresh ingredients from your local market, like asparagus, scallops, and lemons. But it can also make good use of stuff you already have, like flour, butter, shallots, and frozen peas. And it all comes together quickly.
1. First, sauté the vegetables. Heat a nonstick pan over medium heat. Add the olive oil, then the shallots. Cook until they become fragrant and slightly brown, about 5 minutes, then add the asparagus and peas. Cook for another 5 to 8 minutes, until peas are warmed through and the asparagus is tender but not mushy. Set the pan aside.
2. While you preheat a cast-iron pan over high heat, pat your scallops dry. Season with a pinch of salt and pepper, then lightly dredge in the flour, shaking to remove any excess. Add 2 tablespoons butter to the hot pan and add the scallops. Sear each scallop for about 2 minutes on each side. During the last minute of cooking, reduce the heat and add the wine and the remaining butter. (You can also remove the pan from the heat, then add the wine if you're concerned about flare-ups.)
3. Just before serving, place the sautéed vegetables over medium-high heat. Add the juice and zest of the lemon, the basil, and another glug of olive oil if needed and toss to combine. Taste and adjust for seasoning.
4. To plate, place the scallops over a bed of the sautéed vegetables. Serve with extra lemon wedges, if desired.
Originally featured in The Meals Gwyneth Is Cooking Right Now