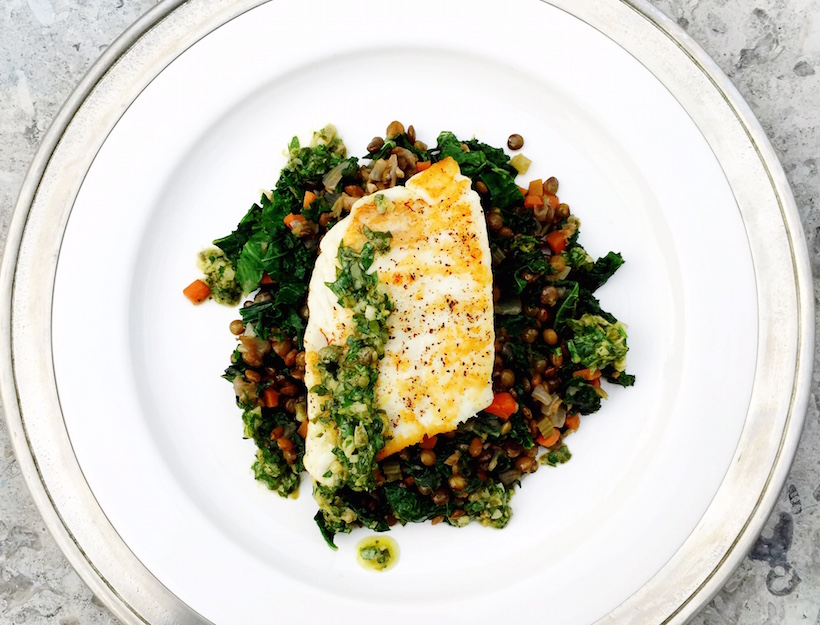 Seared Halibut with Lentils, Kale & Salsa Verde
This may look and sound intimidating, but once the braised lentils are cooked, it is super simple to put together. This recipe makes extra lentils, but they are wonderful in a salad or blended into a soup the next day.
1. First, cook the lentils. In a medium saucepan, sauté onion in olive oil until soft, about 5 minutes. Add carrot and celery, sauté for another 5 minutes, then add garlic and herbs and cook for 1 more minute.
2. Add lentils, sauté 30 seconds, then add stock and bring to a boil. Once it reaches a boil, turn down the heat to a simmer, cover, and cook until the lentils are tender but still retain a tiny bite (about 25 minutes).
3. Turn off the heat, and let sit with the lid on for 10 minutes.
4. Remove the thyme and rosemary sprigs, and season with salt and pepper to taste.
5. To make the salsa verde, combine all ingredients in a small bowl.
6. Take the halibut out of the fridge 10 minutes before you want to cook it.
7. Meanwhile, heat a large sauté pan over medium high heat, add 1 tablespoon olive oil, then add chopped kale and a pinch of salt. Sauté for just a minute, or until the kale has wilted, then add braised lentils. Turn down the heat and cook until the lentils are warmed through.
8. While the lentils are warming, cook the halibut. Heat a small sauté pan over medium high heat, season the fish with salt and pepper and drizzle with the remaining tablespoon of olive oil.
9. When the pan is hot but not smoking, add the halibut and cook for about 4 minutes on the first side, then flip and cook for 2 more minutes. Cook time will vary depending on the thickness of your fish—just make sure you get a good sear on the first side, and remove from the pan when it feels firm and bounces back when poked.
10. Plate lentils and kale, top with halibut, and drizzle over salsa verde.
11. Serve with extra salsa verde on the side.
Originally featured in The Annual goop Detox