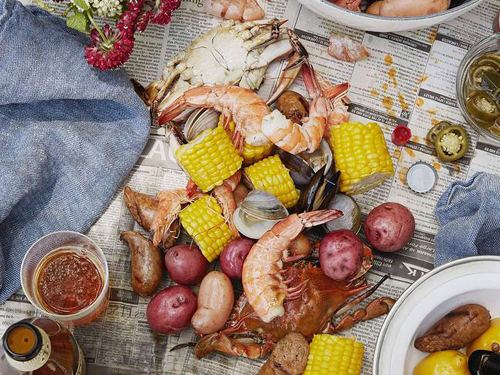 A seafood boil is all about abundance, lots of libations, and eating with your hands. You can serve this with fresh lemon wedges, sea salt, hot sauce, drawn butter, etc.
1. To make the spice bag: Wrap all the spices in a coffee filter or a piece of cheesecloth and tie tightly with kitchen twine.
2. Bring the water to a boil in the largest pot you have, at least a 10-gallon pot. Add the spice bag, lemon halves, garlic, bourbon, salt, and paprika, and bring to a boil, then reduce the heat and simmer for 15 minutes.
3. Add the potatoes and corn and simmer for 5 minutes. Add the sausages, shrimp, crabs, clams, and mussels, bring to a boil, and boil until the sausages are cooked, the clams and mussels have opened (discard any unopened ones), and the potatoes and corn are tender, another 10 to 12 minutes.
4. Lift out the vegetables, sausages, and seafood and dump onto a table covered with layers of newspaper.
Originally featured in The goop Cookbook Club: Smoke & Pickles