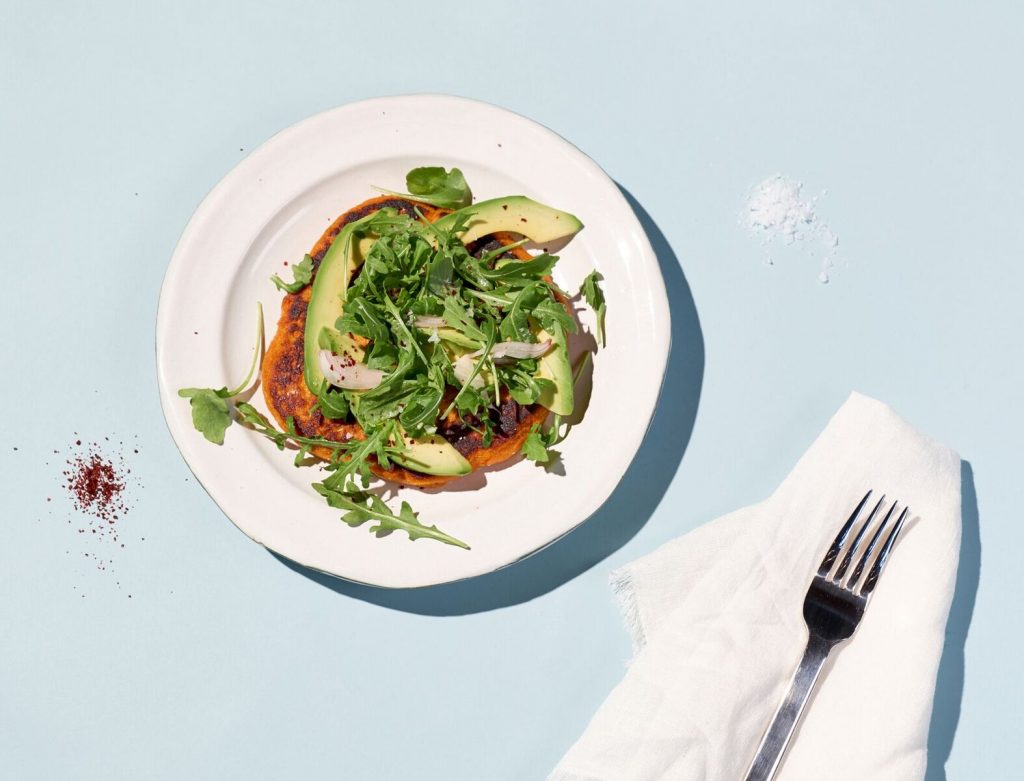 Savory Sweet Potato Pancake with Arugula Salad
High in vitamins A, B6, and E, sweet potatoes are a serious nutritional powerhouse, and this savory pancake, with creamy avocado and a bright, peppery arugula salad, is one of our favorite ways to eat them. Roast a few on a Sunday and keep in the fridge, unpeeled, until you're ready to use.
1. Peel and mash the roasted sweet potato in a medium bowl. Add the oat flour and salt, and mix to combine.
2. Heat 1 tablespoon of the olive oil in a large non-stick sauté pan over medium heat. Divide the batter into 2 equal balls and shape into 4-inch pancakes. Cook the cakes for about 2 minutes per side, or until nicely browned and warmed through (you'll have to do this one at a time), adding more oil as needed.
3. While the pancakes cook, combine the sliced shallot, lemon juice, olive oil, and a large pinch of flaky salt in a medium bowl.
4. When the pancakes are cooked, remove to a plate and top each with half of the avocado; garnish with flaky salt. Add the arugula to the shallot/lemon mixture and toss to combine; pile the salad on top of each pancake. Garnish with a pinch of flaky salt and aleppo pepper, if using.
Originally featured in The Annual goop Detox 2018