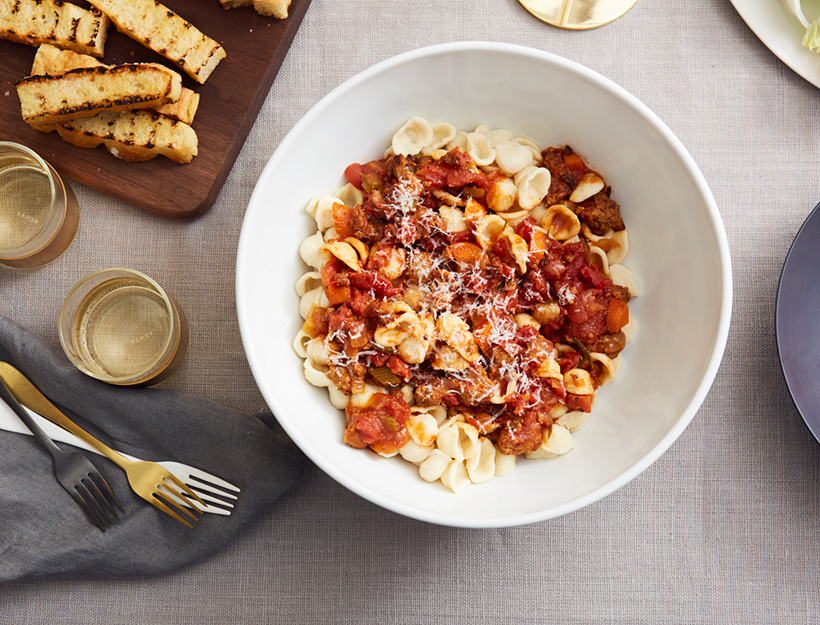 Sausage Ragu with Orecchiette
This ragu gets better with time, so cook it for as long as you can. We usually try to do at least 2 hours.
1. Heat the oil in the largest dutch oven or other heavy-bottomed pot you have over medium high heat. Crumble in the sausage meat and cook for 10 minutes, or until very nicely browned.
2. Add onion, carrot, celery, minced garlic, whole rosemary sprigs, and a generous pinch of salt and continue to cook for 10 more minutes, or until veggies are translucent and beginning to brown.
3. Add the tomato paste and cook 1 minute, then add the white wine. Let the wine cook for 2 minutes, then add the crushed tomatoes, chicken stock, and another generous pinch of salt.
4. Bring the mixture up to a boil, then reduce to a simmer and partially cover. Let the mixture cook for at least 1 hour, stirring regularly and maintaining a gentle simmer.
5. When ready to serve, cook pasta according to package instructions, reserving ½ cup of the cooking water before draining.
6. Remove the rosemary stems from the sauce and add the cooked pasta to the pot, leaving the heat on low. Add pasta water, a little bit at a time, until you achieve a nice, saucy consistency (should be about 3-4 tablespoons).
7. Serve with parmesan cheese on the side.
Originally featured in Foolproof Italian Dinner Party