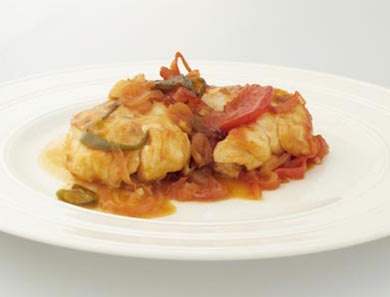 Saluna (Iraqi Sweet and Sour Fish)
This sweet and sour fish is crazy good and very fast and easy. Wonderful for a tasty and different weeknight dinner.
1 large onion, sliced
light vegetable oil (I used olive oil)
1 small pointed (semi-hot or mild) green pepper, slices
2 large beef tomatoes, peeled, cut in half, then in slices
salt and pepper
juice of 2 lemons – about 125 ml (4fl oz)
3 tablespoons sugar
1 ½ tablespoons tomato paste
4 cod fillets weighing about 1 kg (2lb)
1. Fry the onion in 2 tablespoons of oil with the green pepper till soft and transparent, stirring often. Add the tomatoes and sprinkle with salt and pepper. (I continued to gently sauté the tomatoes for the next two steps as I like them well cooked.)
2. Make a sweet and sour syrup by simmering the lemon juice with the sugar, a little salt and the tomato paste until the sugar dissolves.
3. In another frying pan, briefly shallow-fry the fish in hot oil, turning the fillets over so they are lightly colored but still undercooked. Then transfer them to the frying pan with the onions and tomatoes. Pour the syrup over the fish and vegetables and cook 10 minutes or until the fish is done. (I cooked on medium heat, making sure that all the liquid didn't evaporate and burn the fish)
Originally featured in Kosher For Passover