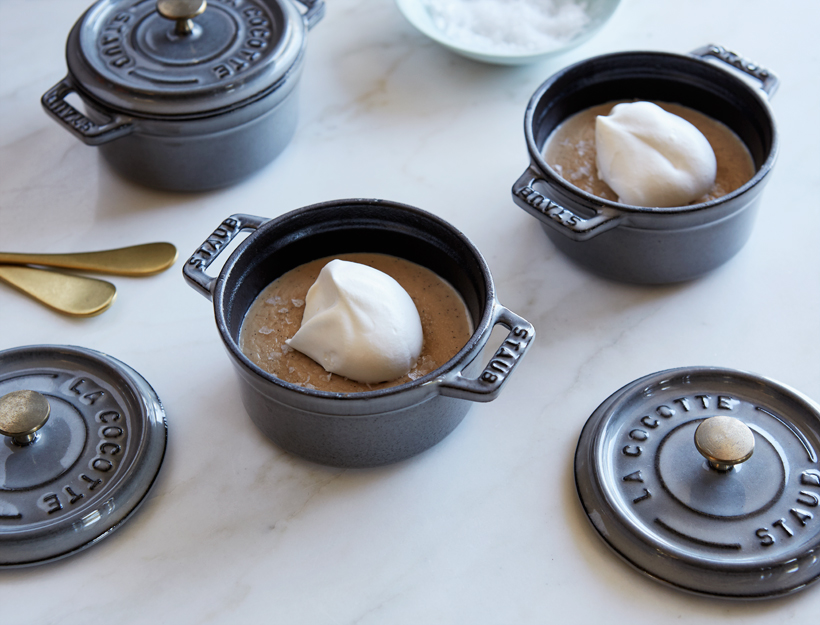 Salted Butterscotch Pudding
Our easy version of a classic Italian butterscotch budino, this sweet and salty dessert can be made up to two days in advance.
1. Heat a heavy-bottomed saucepan or dutch oven over medium heat. Add the butter and cook until melted and just starting to brown. Add the brown sugar, stir to incorporate the butter and sugar, then leave the mixture to cook, undisturbed, for a couple of minutes. Stir with a wooden spoon and when the sugar has dissolved and smells caramelized but not burnt, pour in 1 ¾ cups of the milk, stirring as you pour. The sugar will seize and harden—don't worry—it will melt back into the milk as it cooks. Add a generous pinch of salt and the vanilla bean and its seeds, and let the mixture simmer, scraping up any sugar bits at the bottom of the pan as you stir, for about 5 minutes.
2. In a small bowl, whisk together the cornstarch and the remaining ¼ cup milk. Pour this into the pot and bring the whole mixture up to a simmer. Cook gently for 2 minutes, stirring constantly, until the mixture has thickened and is the texture of a pureed soup or custard for ice cream.
3. Strain through a fine mesh sieve, then divide between 4 glasses, jars, or cocottes. Let cool to room temperature, then cover and place in the refrigerator for at least two hours to set.
4. To serve, sprinkle each pudding with a pinch of coarse sea salt and garnish with a dollop of freshly whipped cream.
Originally featured in Easy Crowd-Pleasing Desserts